The attorney general's office refused to re-screen the central witness in Canada's longest running and most expensive murder trial even though he committed perjury, concocted evidence, and hinted that his ability to recall information in a looming retrial would hinge on how much he got paid for it.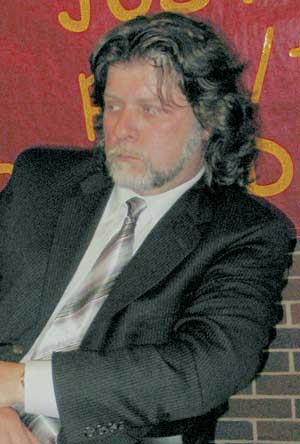 The Crown's case against the four men originally convicted in the famous 1990 shooting deaths of Ottawa-area drug dealer Michel Giroux and his pregnant wife Manon Bourdeau has now completely collapsed.
In 2004, the Court of Appeal overturned the 1996 murder convictions of James Sauvé and Richard Trudel, and Superior Court Justice Colin McKinnon stayed proceedings in the resulting retrial earlier this year because of unreasonable delays and the Crown's continued reliance on unscrupulous paid informant Denis Gaudreault.
On Jan. 26, the Crown's case against the two other men, which also hung on Gaudreault's testimony, began to unravel when the Ontario Court of Appeal granted Richard Mallory and Robert Stewart a retrial due to a host of legal errors committed by the trial judge and crowns.
Then on Feb. 26, the Crown stayed proceedings in Stewart and Mallory's retrial, saying its decision to pull the plug was based on the passage of time, and on McKinnon's decision to stay the companion case, but not on the merits of the case.
The Crown's current process for screening unsavoury witnesses is referred to as the "Kaufman committee" because it resulted from Justice Fred Kaufman's inquiry into the wrongful conviction of Guy Paul Morin.
The committee didn't vet Gaudreault before Sauvé and Trudel's original trial because it didn't exist, but the committee did give Gaudreault the green light to testify in Stewart and Mallory's first trial.
After the appeal court overturned Trudel and Sauvé's convictions in 2004, defence lawyers sent 80 pages of written submissions to the attorney general's office, pleading for a re-screening of Gaudreault, says Trudel's lawyer Matthew Webber, but it never happened.
By this time, a decade had passed and more damming information had surfaced about Gaudreault's conduct and criminal activity while in the witness protection program, says Webber.
"We thought it was obvious that he had to be re-vetted given the passage of time and given the developments that had taken place in the case since that time," says Webber.
The screening committee is an internal Crown mechanism that falls outside of the judicial process, but should still have some semblance of transparency, insists Webber.
"I take the position that [defence counsel] should have a chance to make submissions," says Webber. "You should at least have the opportunity to know what topics are addressed by the Crown."
Webber was refused requests for a list of topics considered by the committee. He wanted to know whether the decision to approve Gaudreault was partly based on corroborating evidence from two other witnesses - witnesses that had, by this time, recanted.
He also wanted to know whether the committee relied on a polygraph test that Gaudreault allegedly passed.
"We had the polygraph independently assessed and it was a worthless polygraph. It was a polygraph where he had used drugs and alcohol the same day."
According to Kaufman's recommendations, witnesses who commit crimes should be prosecuted, points out Webber. And Gaudreault admitted to committing a host of criminal offences, including perjury, fabricating evidence, and even transporting and dealing drugs while under police watch.
"You can't turn a blind eye to it," says Webber. "One of the submissions that I made to the attorney general was that there is no excuse or justification for not prosecuting this man for his crimes except that it would have gone to the heart of his credibility and the heart of his story. That's not a justification."
If defence counsel can't make submissions to the screening committee, then the committee should include a neutral party such as a member of the judiciary, says Richard Litkowski, one of Mallory's lawyers.
Who actually sits on the Kaufman committee remains unclear.
"That's part of the problem," says Litkowski. "It is sometimes difficult to get behind the veil of the decision-making that goes on in these cases. There really doesn't seem to be any accountability for decisions that are made."
If the vetting process isn't made more transparent, trial judges should have the final say about whether a witness is reliable enough to testify, he says.
"It seems that power doesn't exist right now under our common law," he says.
And it's up to the Crown and police to exercise discretion by re-evaluating their decisions in light of new information.
In this case, the Crown persisted in their tunnel vision by continuing to rely on Gaudreault's evidence, and was even prepared to haul him in again for the retrials.
"That's pretty shocking given what we now know about his history of law breaking, perjury, and his general approach to giving evidence, which is 'My memory will get better if you pay me more,' " says Litkowski.
This isn't the first murder case that has dragged on for years before someone eventually puts it out of its misery, says Alan N. Young, an associate criminal law professor at Osgoode Hall.
Part of the problem is that prosecutors and police develop fixed, subjective opinions about a suspect's guilt and then scrape the bottom of the barrel to find evidence even when they can't objectively succeed because they believe the suspect is guilty.
Then when the court of appeal quashes the conviction and sends it back for a new trial, they don't decide that they might not have proof beyond a reasonable doubt, but simply try harder.
"There's a very distinct standard of proof in criminal law," says Young. "If the police and prosecutors don't believe they meet that standard, even if they believe the person is guilty, the only solution is to walk away. You can't have perfect justice. This is not the heavens. It's the criminal courts."