The Ontario government seems poised to finally implement a program experts say will reduce drinking-and-driving recidivism, but lawyers argue it unfairly punishes accused for taking their case to trial.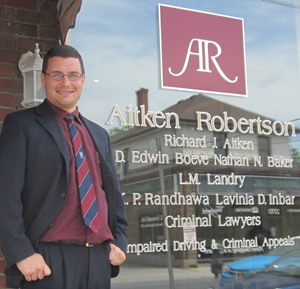 The provincial Liberals made way for the creation of the Reduced Suspension with Ignition Interlock Conduct Review program with legislation passed in 2007. The Safer Roads for a Safer Ontario Act also boosted penalties for street racing and aggressive and impaired driving.
While many of those changes were implemented long ago, the government is just now putting the finishing touches on the ignition interlock program, with sources indicating to Law Times that an Aug. 3 start date has been circulated to Crown lawyers.
Information posted on the province's regulatory registry indicates drivers convicted of impaired driving could get back on the road much sooner through the new program.
Currently, drivers face a minimum of a one-year licence suspension for their first offence. But certain offenders deemed eligible for the new program could be back on the road after serving a minimum driving suspension of three months followed by nine months of driving with an ignition interlock device.
It attaches to a vehicle's ignition system and keeps it from starting if more than 20 milligrams of alcohol in 100 millilitres of blood are detected from a breath sample. However, drivers must enter a guilty plea, be sentenced, and receive a driving prohibition order within 90 days of their offence date in order to be eligible for the program.
The government says studies indicate ignition interlock devices reduce recidivism and that up to 75 per cent of suspended drivers continue to drive despite being barred from doing so.
"The evidence is clear - we must do more to address drinking and driving," said Emna Dhahak of the Ministry of Transportation in an e-mail response. "While Ontario has come a long way, drinking and driving is still a factor in about one-quarter of all traffic
fatalities in Ontario. This new program will make our roads safer by helping to prevent drinking and driving and driving while suspended."
Dhahak added: "By allowing drivers to get back behind the wheel with an ignition interlock, we are giving them a chance to continue to be productive members of society while strictly monitoring and controlling their behaviour."
Lawyer Nathan Baker of Aitken Robertson Professional Corp. in Peterborough, Ont., says the program is long overdue.
"It acts as a behaviour modification program," says Baker, whose firm specializes in drinking-and-driving cases. "If people are just told they can't drive, some breach it or some just give it up for a while. But when they start driving again, they go right back to where they were because it hasn't been trained out of them.
"This program will help them because they get their licence back, but it's a longer period of time with the interlock device installed, and that forces them into not having anything to drink when they drive."
So while society benefits from an apparent reduction in recidivism, the driver gets the benefit of being able to return to the road sooner. That can be a huge carrot for drivers in rural parts of the province, says Baker.
"If you lose your licence for three months, you can still maintain a job, you can make other arrangements for that period of time," he adds, noting that public transportation is limited in rural communities while cabs are expensive.
Yet Baker has misgivings about some aspects of the program, notably the requirement that a guilty plea and driving-prohibition order be issued within 90 days of the offence date.
He says it typically takes between 45 and 60 days for an accused to make a first appearance, at which time initial disclosure is received. Baker says that's a tight timeline, especially considering that the accused must then meet with a lawyer and possibly receive further disclosure.
"All of a sudden, people are really being coerced into pleading guilty to get into this program rather than [fighting the charges], perhaps, if they have a valid defence, if there's a breach of their Charter rights, if the instrument was being operated improperly or was running improperly," says Baker.
"I'm not sure how they're going to deal with that, but there will be some definite Charter concerns there."
Toronto criminal defence lawyer Ron Jourard, who also specializes in impaired-driving cases, also views the 90-day limit as problematic. Other provinces with similar programs don't use it as a "carrot to extort guilty pleas from people," he says.