Former Law Society of Upper Canada treasurer George Hunter was handed a 60-day professional misconduct suspension on Feb. 2 for a conflict of interest arising from his two-and-a-half-year sexual relationship with an emotionally vulnerable client.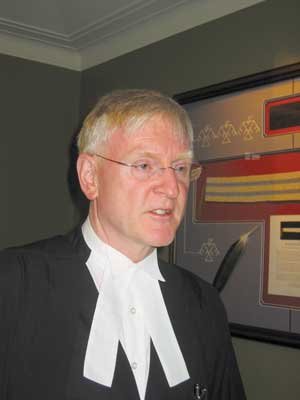 A three-member LSUC disciplinary panel found that Hunter acted in a conflict of interest and failed to maintain the integrity of the profession, and ordered him to suspend his practice as of Feb. 5.
Douglas Hunt, acting for the society, asked for a four-month suspension; Hunter's lawyer Chris Paliare requested a reprimand.
Prior to the suspension, Hunter was on paid leave for health reasons from his senior partner position at Borden Ladner Gervais LLP in Ottawa. He self-reported his conduct to the LSUC in December 2005, and resigned as treasurer, citing personal reasons, in January 2006.
The panel, comprised of law society benchers Mark Sandler, Andrea Alexander, and Sydney L. Robins, found that Hunter engaged in professional misconduct by beginning a sexual relationship with a woman in April 2003 while acting for her in a family law matter.
At the time, he did not make adequate disclosure of the circumstances that could make a conflict of interest likely so she could make an informed decision about continuing their professional relationship in the circumstances of a sexual or romantic relationship, or about entering into a sexual relationship with him.
He continued the affair while retained by the emotionally vulnerable woman for two-and-a-half years without recommending she seek independent legal advice or that she hire another lawyer.
On Nov. 21, 2005, Hunter met the woman at a restaurant and asked her to review and initial Rule 2.04 of the Rules of Professional Conduct. He had her sign an acknowledgment, effectively asking her - under circumstances where she would be unlikely to make an informed decision - to state he had complied with the rule.
Immediately after she signed the documents, he told her about his sexual involvement with two other women during their affair. Their relationship ended, according to Paliare, at the time the acknowledgment was signed.
Then, between Nov. 28, 2005 and December 2005, Hunter repeatedly phoned and e-mailed her, asking her to confirm to his lawyer and partners that their relationship was as he described. He also showed up unannounced at her home, causing her concern and emotional distress.
According to an agreed statement of facts, the recently divorced woman believed their relationship was serious and committed. She said she was reluctant to press access issues in the family law matter, including fears that her child was unsafe during visits with her alcoholic and aggressive ex-spouse, because it would
jeopardize her relationship with Hunter.
According to her victim impact statement, the woman is now seeing a psychologist and suffers from stress and anxiety disorders as a result of Hunter's revelations about his other affairs.
At the hearing, Hunter, 59, admitted failing to adhere to the standards of professional conduct and apologized to everyone, including his family, the law society, the public, and his former client, describing her as "a fine, caring mother."
"I recognize that as a former bencher and treasurer, my conduct has cast an unfortunate shadow over the important role that lawyers play in promoting and protecting the ideals of justice," he said. "My conduct has profoundly disappointed and hurt those closest to me, my partners, my friends, and, most importantly, my family. I'm very sorry."
Paliare read portions of reference and support letters from colleagues and friends, many of them penned by prominent Canadian lawyers.
He described the fallout from his client's conduct as "the sharpest fall from grace of which I'm aware."
Paliare said Hunter has been treated more severely than other lawyers in similar circumstances because of his position. The media storm, gossip, and speculation virtually forced him into hiding, he said.
When giving its oral decision, panel chairman Sandler referred to mitigating factors including Hunter's self-reporting and co-operation with the law society, his acknowledgment of wrongdoing from the outset, and no evidence that his legal work was affected by the conflict of interest.
The panel also said his personal circumstance (referring to his deteriorated marriage before the affair) explains but did not excuse his conduct.
Sandler said Hunter needs no specific deterrence and general deterrence was the focus.
"This misconduct has already taken a significant toll upon him," he said. "Although we must remain mindful of the impact of this and other decisions upon the profession as a whole, Mr. Hunter should not be treated more harshly as a result of his prior status as a treasurer and bencher, nor, of course, should he receive favoured treatment, although he's entitled to make the important point that his career is incompatible with this misconduct, and that, therefore, this misconduct can rightly be regarded as 'out of character.' "
Sean Weir, national managing partner of BLG, said the firm's 16-member partnership board plans to wait for the panel's written reasons before deciding whether Hunter will continue with the firm.
"The firm's governing body will review that with Mr. Hunter before the end of the suspension period and make a decision about what's appropriate going forward."
Unlike in jurisdictions such as the United States, Canada's rules of professional conduct do not contain a rule that specifically forbids lawyers from having intimate relations with clients.
Trevor Farrow, assistant ethics professor at Osgoode Hall Law School, says a regulatory system grounded in conflict of interest rules is more realistic and effective than placing an absolute ban on intimate relationships.
"You do a little bit better of a job in terms of the commentary, and with the education of people, but recognize that the world is a complicated place and there are exceptions to everything," he says.
"Often, that's a better way of treating people as individuals as opposed to coming up with a water-tight rule that doesn't do a good job of taking seriously the individual situations that might come up."
Lawyers often remove themselves from files when they become involved with clients, but making the decision is easiest when working directly with a client, he says.
These situations become more complicated within large law firms that provide advice to large corporations and institutions.
"Does the fact that someone is having a relationship with someone within a client structure mean that a firm is now conflicted out? There could be ramifications for this that could have a significant impact on the legal community," notes Farrow.