With Heenan Blaikie LLP reportedly having had its best year yet in 2010, how could the firm have declined so quickly with its announcement last week that it was winding its operations?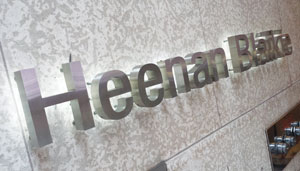 While Heenan Blaikie had some "good years" immediately after the 2008-09 downturn, it's those good years that were perhaps the "worst thing that could have happened to them," according to one source familiar with the situation, as they helped to cover up the impact of the recession. In fact, 2010 was reportedly the firm's best year ever with some large one-off transaction files that kept lawyers busy. Since then, of course, the total value of corporate deals in Canada has fallen significantly.
But even after a good year, it doesn't take much for things to go south very quickly, says Colin Cameron, founder of Vancouver-based Profits for Partners Management Consulting Inc.
According to Cameron, a 10-per-cent drop in revenue can potentially result in a 25-per-cent loss in profits assuming a 40-per-cent net-profit margin. "To further demonstrate that example, if your revenue is off 20 per cent, your net profit is cut by 50 per cent," he says. "So it could be as simple as that."
At Heenan Blaikie, the Montreal office, like the Toronto one, had recently completed a large file of work that was keeping cash flow coming for an extended period of time. In Montreal, a case recently came to an end with a Supreme Court decision issued Jan. 9 involving Pricewaterhouse Coopers/Coopers Lybrand and Montreal-based Castor Holdings Ltd. About 10 to 15 Heenan Blaikie lawyers were reportedly on the file for 15 years. For the Toronto office, a key factor in the firm's troubles was a large arbitration file that had huge monthly billings and also wound up recently.
In addition, others say there was a perfect storm happening on many levels at Heenan Blaikie. For example, the firm opened a Paris office just as the European economy was tanking.
And when revenues drop, problems can develop quickly given that most firms have fixed costs that go into paying for salaries and operations, according to Cameron.
"So when the top line drops, there's not a lot they can do other than fire people, whether that's staff or associates," he says.
"Many firms go that way first, but then eventually you got to start letting go of non-equity partners and finally you've got to be letting go of equity partners to manage your cash flow and expenses."
At Heenan Blaikie, meanwhile, senior partners had been trying to figure the next moves for the iconic Canadian firm that has seen large groups of lawyers jumping ship for the last 18 months. But by Wedesday, it announced an "orderly" windup of its operations that would span a few months. It vowed the windup would "make it possible to continue serving the firm's clients without interrupting or disrupting service" and that "several practice groups and even entire offices will continue to operate under new names."
The firm of 500 lawyers spread across eight offices has lost at least 40 partners from a number of practice areas, including its core labour and employment group. Last weekend, the Ottawa lawyers in that practice area quit. They included co-managing partner Dan Palayew, who's leaving for Borden Ladner Gervais LLP.
They follow others who have departed recently, including Tim Lawson, a member of the executive committee who joined McCarthy Tétrault LLP as a partner last week, and Michael Ledgett, who was national co-chairman of the infrastructure and public-private partnership group and is now at Dentons Canada LLP.
DLA Piper is in talks to recruit a group of 55 to 70 lawyers from the firm's Toronto and Calgary offices. "There is a sense of urgency associated with this," said Roger Meltzer, co-chairman of Americas at DLA Piper, noting his firm was in "serious negotiations" with 25 to 30 partners in capital markets, mergers and acquisitions, tax, litigation, among other areas.
"They would become DLA Canada," said Meltzer of the firm's possible debut in the country.
While the Heenan Blaikie collapse could feed the global firms' practices in corporate, banking, labour and employment, and other areas, the possible additions would give them a limited boost because of Canada's lower billing rates, according to other legal experts. "Canada is a less attractive market to most U.S. firms because it is a lower rate market," said Peter Zeughauer, a U.S. law firm consultant. "For global firms, it may make sense to have an office there," Zeughauser added, noting some have set up lower-cost offices there to farm out work coming from other geographic locations.
While a number of Vancouver partners formed Gall Legge Grant & Munroe last week, a source familiar with the Heenan Blaikie situation said the Vancouver office might become a firm on its own and Marcel Aubut, a partner who's also president of the Canadian Olympic Committee, may lead the Quebec City office. Said to be a rainmaker, Aubut joined the Montreal office many years ago and has had his own office in Quebec City.
The smaller offices in Sherbrooke and Trois-Rivières, Que., may try and go it on their own. The future of the Montreal office is a large unknown. The "question is whether there will be enough people left to make a firm," said one source.
Many were watching the Heenan Blaikie story with disbelief as what was once considered one of the premium law firms in the country appeared to be falling apart. "I think it's very sad," says Brian Grosman of Levitt & Grosman LLP.
Grosman says when he saw last year that the leaders of the labour and employment group — namely Henry Dinsdale and Jeff Goodman — were going to Hicks Morley Hamilton Stewart Storie LLP, he felt it was "the beginning of the beginning."
"When I first heard about that I thought: 'There's something wrong here.' These people are leaders in their group. Whenever the leaders are leaving, you know the troops are not all that far behind."
One in-house counsel lawyer says the writing has been on the wall for large firms for more than a decade. "Like may firms, they are paying their lawyers too much and when they don't have the work to sustain it, it can all go pretty quickly. This is not a pretty story. Other firms know they aren't immune from it and they need to be very conservative at this point."
A lawyer who left Heenan Blaikie about a month ago says the firm knew it was in a tough spot more than a year ago. Revenue pressures included client demands for steep discounts of up to 30 per cent. While the labour and employment and some parts of the litigation areas were doing fine, the corporate side had been suffering, according to the source, who requested anonymity. Even so, firm founder Roy Heenan told the Montreal Gazette last week the firm had a profitable year in 2013.
When it comes to avoiding a crisis like the one at Heenan Blaikie, there are a few things firms can do, according to Cameron. Ensuring adequate capital through strict payment of partner contributions should be a priority, he notes, adding being debt free and carefully selecting clients are also good ways to minimize risk.
"There are lots of firms who take on securities clients without being paid upfront. The client they're dealing with doesn't have the money, but they'll take the client on in the hopes that when they get the [initial public offering] done, when they get listed, they're going to get paid," he says. "So avoid those types of clients or insist on money upfront."
­— With files from Reuters