The disciplinary case of Viktor Hohots, a lawyer suspended last week for failure to adequately serve his clients, reveals the need for "massive reform" in the way lawyers represent refugee claimants, says constitutional lawyer Mary Eberts.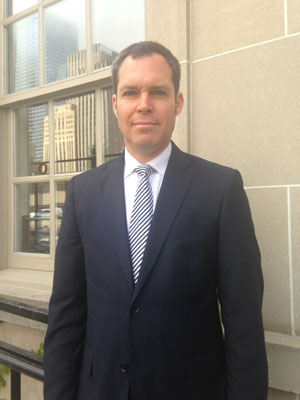 "I think this case has revealed some huge problems with the refugee determination system," said Eberts, counsel for the Canadian Romani Alliance, Roma Centre, and Romero House that, along with Legal Aid Ontario, unsuccessfully sought intervener status at the penalty hearing for Hohots last Monday.
Hohots can't practise law for five months following his suspension by the Law Society Tribunal and faces a two-year restriction on representing refugees after that.
About 17 Roma refugee claimants complained about inadequate preparation by Hohots before their hearings. The government has since deported almost all of them.
"We were trying to give this community a voice in a small part of that system, to try to get some justice as a start and we were not able to do that," says Eberts of the Roma groups' attempt to intervene at the hearing last week.
"Now we have to look at where else in the system we can go because I'm more convinced than ever that there needs to be massive reform in the way lawyers represent refugee claimants."
Her complaints come as LAO introduces new standards for lawyers who are on its refugee panel. Immigration and refugee lawyers have until July 17 to show they meet new general standards to represent clients before the refugee protection division and an appellate standard to practise before the courts and the refugee appeal division.
LAO says the reforms strengthen the system but, according to Eberts, those measures came too late.
"My clients were asking for something to be done by legal aid in January 2012. So I'm not going to comment on the standards specifically, but three years after they asked for something to be done, something was done," says Eberts.
Meanwhile, LAO says it's looking into recovering the costs spent on Hohots' certificate work.
"Legal Aid Ontario is considering a number of options to determine whether legal aid can recover costs from Mr. Hohots," says LAO spokeswoman Genevieve Oger.
Oger says she can't disclose the amount legal aid is trying to recover as the organization cannot reveal the billings of an individual lawyer unless the law society seeks that information.
"We can't disclose that information and even if there were a freedom of information request, legally we wouldn't be able to release that information," she says.
"We can only release that information to the law society because it would be related to proceedings in which there would be a sanction or a penalty imposed. It's a very limited exemption to the rule."
Hohots admitted to delegating the work for his refugee claimants to a non-lawyer in his firm. He also admitted to not meeting with his clients personally or conducting thorough interviews.
In order to practise again, Hohots will have to undergo a practice review and demonstrate he has conducted a detailed interview with his refugee clients by producing evidence such as notes.
Eberts says the tribunal's two-year restriction on Hohots' refugee practice is of little consequence as LAO has already removed him from its panel of refugee lawyers.
Hohots signed an agreed statement of facts admitting to several allegations, something law society counsel Lisa Freeman called a significant mitigating factor. The tribunal later accepted an agreement reached between Hohots and the law society.
While Hohots admitted to failing to properly prepare documents for his clients, his lawyer, Mitchell Worsoff, said his client wouldn't take responsibility for the refugee claimants' ultimate deportation.
In a closing statement that angered some courtroom observers, Worsoff said the deportation of two of Hohots' former clients, Jozsef Pusuma and his wife Timea Daroczi — who took sanctuary in a Toronto church for three years — was due to their own "vague" and "inconsistent" claims.
"I don't want this to fall on my client's shoulders. I don't want him to be castigated because certain people got deported," said Worsoff.
Hohots "essentially bit off more than he could chew," Worsoff suggested. In response, at least two court observers interrupted the proceedings to respond to Worsoff before leaving the courtroom.
"You're standing here disparaging the witnesses who can't be here," said Mary Jo Leddy, founder of Romero House.
"That's not right."
The tribunal panel didn't immediately release written reasons denying intevener status to the Roma community organizations and LAO.
At the hearing, however, both Freeman and Worsoff said LAO was trying to adduce fresh evidence at the penalty stage of proceedings. For its part, LAO said it was simply offering to provide the panel with more information on the scope of Hohots' practice as a legal aid certificate lawyer.