The lawyer representing Heenan Blaikie LLP in a wrongful dismissal lawsuit denies the firm's former partners walked away with their capital funds when it collapsed last year.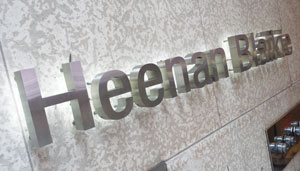 "The one thing I feel I must say is that the claim that any of the partners have received their capital back is utterly false," says Greg McGinnis, a partner at Mathews Dinsdale & Clark LLP.
"No HB partner has received a penny of capital back."
A year after the firm collapsed, Heenan Blaikie and its former managing partners are defending themselves in lawsuits launched by former employees alleging wrongful dismissal, misrepresentation, and unpaid settlement agreements. None of the allegations have been proven in court.
In one of those lawsuits, Wendy Rhodes, a former legal assistant, is alleging the firm didn't treat
everyone fairly as it prepared to wind down operations. Part of Rhodes' allegations against the firm relates to "fraudulent preference."
Rhodes claims partners of the firm, including former co-managing partner Norman Bacal and his successor in the role, Kip Daechsel, "were paid out their capital in preference to her minimum entitlements pursuant to the [Employment Standards Act]," an allegation Heenan Blaikie denies.
In response, Bacal and Daechsel say the firm hasn't made any capital payments to its partners. "All partner compensation ceased in January 2014," their statement of defence reads.
Rhodes is also accusing Bacal and Daechsel of reassuring her about the firm's state of affairs and the security of her job before sending her a termination letter on Valentine's Day last year.
But in their defence, Bacal and Daechsel say they weren't "omniscient" about the firm's fate at the time they made those reassuring statements.
"All statements made by the individual defendants to the plaintiff were true (or reasonably believed to be true) at the time that they were made, but in some cases they were quickly surpassed by events in Heenan Blaikie's Toronto office and elsewhere," the firm's statement of defence reads.
"Prior to dissolution, Heenan Blaikie had nine (9) offices across the country, and the individual defendants were not omniscient."
The statement of defence also says Rhodes didn't "rely on any statements made by any of the individual defendants, or any representative of Heenan Blaikie or Heenan Blaikie Management Limited."
It continues: "Nor did the plaintiff suffer any damages arising out of any such alleged reliance."
Rhodes is seeking $105,000 for wrongful dismissal or breach of contract.
McGinnis says there's a disagreement between the parties over the quantum of Rhodes' entitlements. "There always is in claims of this type," he says.
"Nothing particularly special about this one. If there weren't, there'd be nothing to sue over."
He adds: "The only thing interesting about this claim is the identity of the defendants."
Koskie Minsky LLP is representing two plaintiffs, including Rhodes, who have launched wrongful dismissal lawsuits against Heenan Blaikie. Lawyer Philip Graham, who has just taken over the files from former counsel Christine Westlake, says he's not prepared to talk about the files.
He confirms, however, that the matters are now at the discovery stage.
Last year, Westlake told
Law Times
her clients were struggling to get by after their sudden termination by the firm.
"These are legal assistants who were dedicated, loyal employees serving their employer for a lengthy period of time and, through no fault of their own, they were terminated and now haven't received the compensation they were legally entitled to," said Westlake.
"They're not out to get the sun, the moon, and the star," she added.
Heenan Blaikie has also filed a defence in another lawsuit in which a former patent agent alleges the firm owes him $800,000 in damages for wrongful dismissal for letting him go without notice.
Marcelo Sarkis alleges that as the firm had terminated more than 200 employees during the four weeks ending Feb. 28, 2014, it had an obligation to provide 12 weeks' notice pursuant to the Employment Standards Act's mass-termination provisions.
"Heenan Blaikie did not terminate more than 200 employees at an 'establishment,' as provided by the Ontario Employment Standards Act, 2000," the firm's statement of defence reads.
"Many Heenan Blaikie employees in Toronto resigned their employment in February 2014 before receiving notice of termination of employment."
According to the statement of defence, Sarkis received eight weeks' notice of termination and there's a difference of just four weeks between his position and the one taken by Heenan Blaikie.
Having regard to his age, period of service, and position, Sarkis' claim for notice of termination is "unreasonable and excessive," the firm said in its statement of defence.
"Sarkis is one of many professionals, partner and non-partner, whose career has been affected by the dissolution of Heenan Blaikie. Sarkis has been treated in a manner consistent with other employed professionals in the firm.
There is no basis for punitive, aggravated or exemplary damages."
When reached by
Law Times
, Sarkis declined to comment.
In response to another lawsuit in which a former non-equity partner accused the firm of unpaid settlements after its collapse, Heenan Blaikie reiterated that it hadn't paid its former partners since January 2014.
Rhonda Levy alleges that when she left the firm in May 2013, the firm agreed to pay her $270,000 in bimonthly instalments. Those payments, she says, stopped in January 2014.
Heenan Blaikie responded: "Implicit in the agreement was a term that the plaintiff would not be placed in a better position through the agreement than if she had remained with the defendant as a partner. Had the plaintiff remained a partner in the firm, she would not have received any income after January 2014."
For more, see "
Heenan facing flurry of lawsuits
."