A prominent Guelph lawyer could be at risk of losing his Order of Canada designation after being found guilty of professional misconduct and disbarred by the Law Society of Upper Canada earlier this month.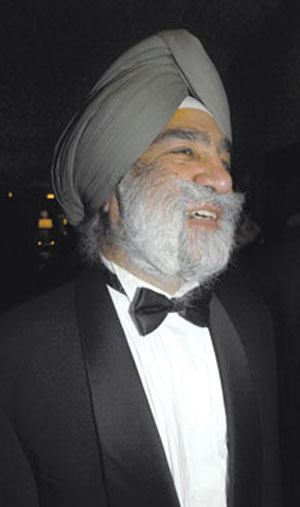 Tapisher (T. Sher) Singh's license to practice law was revoked by a society disciplinary hearing panel on Sept. 11. Singh, 58, was not present when his 22-year legal career officially came to an end, nor did he have legal representation before the panel.
Singh could not be reached for comment, but said in an internet column he authors that he has "done nothing wrong."
The panel, comprised of lawyers James Caskey and Nicholas Pustina and law society lay bencher Baljit Sikand, found Singh guilty, based on "clear and convincing evidence." Written reasons will be delivered within a month, according to panel chair Caskey.
Singh was invested as a member of the Order of Canada in August 2002 for his work as an "advocate for the importance of positive race relations and interactive dialogue among members of different religions," and as "a symbol of the importance of mediation, listening and understanding as tools to bridge different segments of our society."
A spokesperson at the Governor General's office told Law Times that they are unable to comment on individual cases, and decisions on reviews of the order are done at arm's length, by the advisory council.
According to the Constitution of the Order of Canada, the advisory council can consider the termination of a person's appointment if their conduct has "been subject to official sanction, such as a fine or a reprimand, by an adjudicating body, professional association or other organization."
The law society's notice of application notes that Singh was alleged to have breached a law society bylaw for receiving a number of cheques from a client in 2004, which he deposited into an account that was not his trust account.
It was also alleged that he breached one of the rules of professional conduct by failing to serve a client by not setting a trial date, failing to communicate with a client, misappropriating trust funds, and failing to follow a client's instructions to draft a separation agreement.
In separate instances, the law society alleges that Singh accepted trust funds from clients, but "failed to render an account, failed to perform substantial work on the file," and failed to return any of the retainer fee in one case.
Singh, who was called to the bar in 1985, was suspended by a hearing panel in November 2005 after being found guilty of professional misconduct for "failing to maintain accurate books and records with respect to two clients, failing to fully co-operate with the Law Society's investigation; failing to properly account to two clients with respect to trust monies received on their behalf; failing to adhere to legislated requirements in the manner in which he withdrew trust funds on account of legal fees and disbursements in relation to two clients; and failing to serve a client."
As part of the 2005 decision, he was required to reimburse $4,000 to a client and $2,000 in costs to the law society. The law society says that Singh breached these orders, as well as his suspension order, as he failed to notify a client of his suspended status and continued to represent two clients during the suspension.
According to the law society, a "party to a proceeding" may appeal a final decision or order of a hearing panel. Parties other than the law society are allowed to appeal on any grounds, for example, a question of law, a question of fact, or a mixed question of fact and law.
When contacted, the law society said that it does not comment on the decisions of hearing panels and that the "hearing panel decision speaks for itself."
In an undated column to readers on web site
www.sikhchic.com
, Singh responds to news reports on the law society proceedings.
"I simply refuse to become a litigant and defend myself against suggestions that I misappropriated $4,000 from a man who I helped for several years with my heart and soul, and who continues to owe me fees in the amount of approximately $150,000.00," he says. "Or, that I haven't accounted for $1,000 dollars here or $1,500 there to a handful of people who have come out of the woodwork after my troubles became news."
Singh says he, "practiced law for 20 years – honourably, professionally and with the utmost integrity. I have, of course, made my share of mistakes – and I have readily acknowledged them and taken full responsibility for them and my faults . . . I have worked a little too hard, a bit too passionately, for my clients and those who I have otherwise represented."
According to his column, Singh says that he "voluntarily resigned from the Law Society and closed my practice in 2005."
However, according to a Toronto Star report, the hearing panel was told he was not eligible to do so, as the discipline process was already under way.