The Ontario government should remember defence counsel as it works to fix Ontario's disgraced child pathology system, says the head of the Criminal Lawyers' Association.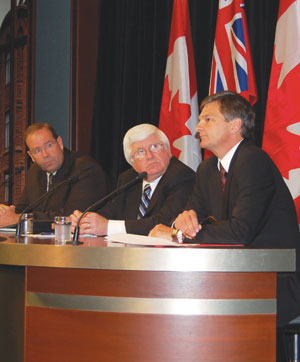 "A key thing for defence counsel is that we are looking for a better system of oversight of forensic science," Frank Addario tells Law Times, urging increased legal aid funding for people accused in suspicious child deaths.
Addario's comments came on the heels of last week's report on Ontario's pediatric forensic pathology system from Ontario Court of Appeal Justice Stephen Goudge.
His findings, which included 169 recommendations, follow months of testimony into the actions of Dr. Charles Smith, the pathologist found to have made questionable conclusions in 20 of 45 child-death cases reviewed by the Ontario coroner. In 13 of those cases, the courts convicted those accused, many of them family members of the deceased.
The report prompted an apology from Attorney General Chris Bentley to the families as well as a pledge to take action not only on the cases Smith may have made mistakes in but also a wider probe of more than 200 shaken-baby cases in Ontario.
"It is the right thing to do to make sure that where the shadow of suspicion exists, we shed light," Bentley said at a press conference.
Among Goudge's prescriptions for fixing the system were a series of recommendations aimed at the legal profession. "As this inquiry demonstrated, pediatric forensic pathology is a complex science.
Therefore, it is important to provide capable legal representation in child protection proceedings in which that science plays an important role. Legal Aid Ontario should work with the family law bar to ensure that proper funding is available for this purpose," Goudge wrote.
Specifically, Goudge suggests the province increase legal aid funding for defence lawyers who take on child-death cases. He also recommends Legal Aid Ontario not only fund expert pathologists to testify on behalf of the defence but that it pay rates similar to what the Crown pays.
As well, Goudge wants the government to provide training courses on pediatric forensic pathology. "This education should assist lawyers in developing the specialized knowledge necessary to act as counsel in pediatric forensic pathology cases," he wrote.
For Addario, those words were welcome. "I think Justice Goudge makes it clear that it's hard for defence counsel to engage experts because we don't have the money, or [the experts] don't want to be tainted by associating with the defence in a case where another pathologist is going to give evidence for the Crown," he says. "I think the solution to that is a more professional forensic pathology office, better oversight, and more money made available for litigating cases."
A lack of oversight, in fact, was one of the key issues Goudge identified as having allowed Smith, who conducted more than 1,000 child autopsies during his 24-year career at the Hospital for Sick Children, to continue in his job despite his mistakes.
While he noted Smith had no formal training for a job few other pathologists in Ontario were available to do, the judge was especially critical of the two men charged with ensuring the system worked and who defended Smith even as questions surrounding his work arose during the 1990s. Those two men were Dr. James Young, the former chief coroner for Ontario, and Dr. James Cairns, then the province's deputy chief coroner.
"Throughout the 1990s, coroners, police officers and Crown counsel brought a litany of concerns about Dr. Smith's work practices to the attention of the [chief coroner's office]," Goudge wrote.
"People complained repeatedly about Dr. Smith's failure to produce reports in a timely fashion; his unresponsiveness; his carelessness; and the inconsistencies between his written reports, his pre-trial comments, and his sworn evidence. In many instances, nothing was done to respond to these concerns."
Following one case, in which Smith mistakenly determined that a girl's death was due to stab wounds rather than dog bites, Young made a public promise in 2001 to conduct a review of Smith's cases.
But in the end, Young secretly reneged on the commitment, all the while continuing to have Smith perform autopsies in non-criminal child deaths. In the meantime, the Crown had already withdrawn a second-degree murder charge against the girl's mother, Louise Reynolds. That decision came after several experts had concluded the death was the result of a dog attack, Goudge noted.
As a result, he recommended sweeping changes to Ontario's forensic pathology system, calling for a revamped Coroners Act.
"Although the Coroners Act structures the coronial system in Ontario and provides that the coroner is in charge of the death investigation, it makes no mention of a forensic pathology service, who might run it (such as the chief forensic pathologist) or those who should be allowed to perform post-mortem examinations . . . In other words, no legislative framework was or is currently provided to ensure proper oversight and accountability of forensic pathology in general or pediatric forensic pathology in particular."
For their part, government officials say they've already implemented some of Goudge's suggestions, including the recommendation that autopsy conclusions in suspicious cases be subject to peer review.
As well, Bentley says the action on shaken-baby cases will shed light on whether mistaken forensic conclusions may have led to unjust convictions. "We are going to review every single one of the shaken-baby cases," he says, noting scientific knowledge on the phenomenon has changed in recent years.
For defence lawyer James Lockyer, who is involved in several appeals of cases in which Smith made erroneous conclusions, the news on shaken-baby cases was key.
"The review of all shaken-baby cases is from my point of view the most important recommendation because I'm sure that of the . . . cases that have been identified in that category of cases there are going to be some more miscarriages of justice," says Lockyer, a director for the Association in Defence of the Wrongfully Convicted.
"I think there's no doubt that the province is going to be obliged to compensate the victims of all of this," says Lockyer, noting Goudge urged the province to examine ways to compensate victims, something Bentley has promised to do.
Meanwhile, NDP MPP Peter Kormos asked: "How could Smith have been allowed to conduct himself in this manner, over this protracted period of time, causing so much harm to so many other people when you have this huge bureaucracy and all these levels of oversight.
That question remains unanswered by both the attorney general and the minister of community safety."