If you like Mike Ross, the brilliant pretend-lawyer on the popular TV show
Suits
, you're in luck because now there's an app for that.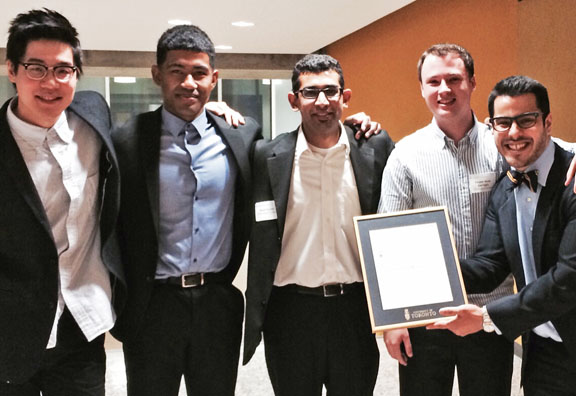 Students at the University of Toronto are behind the new app, named Ross after the TV character, and they say it may not get rid of lawyers but it is sure to become "a major disruption" in the legal profession.
Ask ROSS a legal question using lay language, just like you'd ask a colleague, and it will turn billions of documents into snippets of answers for you in a matter of seconds. Using a percentage, it will tell you how confident it is that it got the answers right, and it will even show you the documents it derived its answers from.
"It's like a legal associate that you're kind of having a conversation with in a lot of ways," says Akash Venkat, one of the students who created ROSS using IBM's artificial intelligence technology. "It's not like your traditional legal research tool where you kind of type in keywords. You actually ask it questions in natural language like you're talking to a person."
Users can either type in their question or simply speak to the app. Currently, ROSS uses data available on CanLII to respond to questions, but its creators say more legal content will be available on it in the future. Once you click on responses, ROSS would re-filter its results based on what it thinks you're more interested in.
The computer science students behind the product will represent U of T at a
Dragons' Den
-like competition for seed capital in New York in January. The competition is put together by IBM, which challenged 10 top universities to create apps using its Watson technology — a system that processes information more like a human being than a computer.
ROSS comes as a British-based strategic consultancy group recently
released a report
saying it's only a matter of time before artificial intelligence and robotics put lawyers out of work. The report, authored by Jomati Consultants LLP, says law firms would see nearly all of their process work undertaken by artificial intelligence robots.
But the people behind ROSS are reluctant to say the tool would put lawyers out of business.
"It's never going to replace lawyers entirely any more than I guess automation replaces humans on a manufacturing floor," says Steve Engels, the computer science instructor whose students created the app. "There are just certain tasks that are tedious and can also be fraught with human error that this should hopefully streamline," he adds.
ROSS is meant to aid a lawyer instead of being used in lieu of one, Engels adds, but the technology could replace a team of paralegals with just one paralegal who has access to the app.
"So it's like [Mike] Ross. ROSS doesn't handle clients himself as much. He always has to have a supervisor there to verify his findings but he's very good at doing the paralegal work," says Engels.
At this point, the system isn't as skilled as its namesake, but with some training it will get there, adds Engels.
Business lawyer Donald Henderson, who has been advising the students with their project, says ROSS is about reimagining legal research.
"Even though a lot of stuff is now online, you still see these remnants of a much older system," he says. "If no one had invented legal search and somebody walked in and started inventing legal research now, it would all be digital, it would all be electronic, it would all be searchable, it would all be designed around the tools we have now as opposed to this existing system that started with books and binders and then moved online," he adds.
ROSS is "a really big quantum leap" in that sense, Henderson adds. "So it's not a bolt-on, although these kind of tools, including ROSS, would work with existing proprietary databases."
The app will likely be more useful in law departments and small firms where limited resources put a strain on legal research, but big firms could benefit too, he says.
"Right now law firms are discounting some of their research time just because the clients aren't wanting to pay for it," he says. "Even for a large firm, being more efficient in some ways is actually a net positive."
But aren't clients just going to skip lawyers and do the research themselves using technologies like ROSS?
No, says Henderson, because "the answer for every legal question is, 'It depends.'"
"Even if Watson says it has a 90-per-cent probability of knowing the answer, it's not really giving you the answer; it's just giving you its confidence on what it thinks the answer is so you can never rely on that," he says. "But if it identifies the three leading cases in two statutes then it can save you an hour from having to do that yourself."
Once fully out there, there will be a free version of the app that can be accessed by anyone with a smartphone.
ROSS is just one of the legal tools U of T students created using the Watson technology. Other students created apps specifically designed to navigate processes around divorce or immigration.
Sure, technologies like ROSS will make some lawyers nervous. But "people were nervous about fax machines too," says Henderson.
"There will be people who are scared of any kind of advance like this. The reality is we are living in a world different from the one we lived in even five years ago and you can either accept that or resist the change," he adds. But, "unless you're planning on retiring in the next five years, you really shouldn't resist it."
But resistance hasn't been the response from lawyers who've heard about ROSS, according to Engels, who adds lawyers he's spoken to were interesting in what they were offering.
Updated Dec. 30: image changed.

Clarification: The creators of ROSS say they didn't name it after the TV character.