Real estate lawyer Doug Downey will be Ontario's new attorney general, Premier Doug Ford said on Thursday.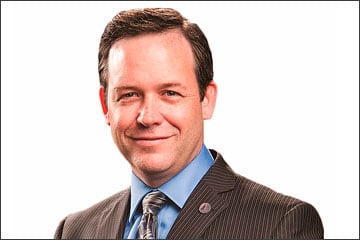 Real estate lawyer Doug Downey will be Ontario's new attorney general, Premier Doug Ford said on Thursday.
Downey, a Progressive Conservative member of parliament for Barrie-Springwater-Oro-Medonte, was a partner at Downey Tornosky Lassaline & Timpano Law PC. He has an LLB from Dalhousie University in Halifax and his LLM from Osgoode Hall Law School in Toronto and is a designated specialist in real estate law by the Law Society of Ontario.
Downey will take the role amid several challenging projects at the ministry, including the administration of a reduced legal aid budget and the construction of a massive new courthouse in Toronto.
He replaces Caroline Mulroney, the MP for York-Simcoe, who attended New York University's Law School and was an associate at Shearman & Sterling LPP in the Compensation, Governance & ERISA group. Mulroney will remain minister of francophone affairs and will also be minister of transportation, the government said.
Mulroney faced criticism from some members of the legal community for her responses to cuts to the legal aid budget, as well as the provincial government's plan to invoke the notwithstanding clause of the Canadian Charter of Rights and Freedoms in a fight over the size of Toronto's city council.
"Because time is of the essence . . . we have decided to use a legal tool that is available to the legislature. We are using this tool to make sure the people of Toronto have the rules that they need and the clarity that they need," Mulroney said of the notwithstanding clause last year at a legislative scrum.
More recently, Mulroney's office was the site of a protest around legal aid funding, which was cut by about a third in the provincial government's recent budget.
"While some lawyers may not welcome renewed accountability at legal aid, every dollar saved is a dollar we can invest in the services that matter most to people, such as public health care and education," Mulroney's office said at the time.
Downey was previously parliamentary assistant to the minister of finance.
Several other lawyers in Ford's cabinet will also get new roles in a sweeping leadership change.
Christine Elliott, MPP for Newmarket-Aurora, who has an LLB from the University of Western Ontario, was promoted to deputy premier and minister of health.
Sault Ste. Marie lawyer Ross Romano will be minister of training, colleges and universities. His predecessor, MPP Merrilee Fullerton, who is not a lawyer, denied program approval for Ryerson University's law school last year, but the school is now working with the ministry on a new plan.
Kenora-Rainy River MPP Greg Rickford, who studied common and civil law at McGill University, will be minister of energy, northern development and mines and minister of Indigenous affairs. Michael Tibollo of Vaughan-Woodbridge, who has an LLB from the University of Windsor, will be associate minister of mental health and addictions. Prabmeet Sarkaria, a former associate at Miller Thomson LLP, will be associate minister of small business and "red tape reduction," the government said in its announcement.