Discrimination is "a problem that's not going away," a Law Society of Upper Canada bencher says in the wake of a 10-year report showing things are hardly improving for women and minorities in the legal profession.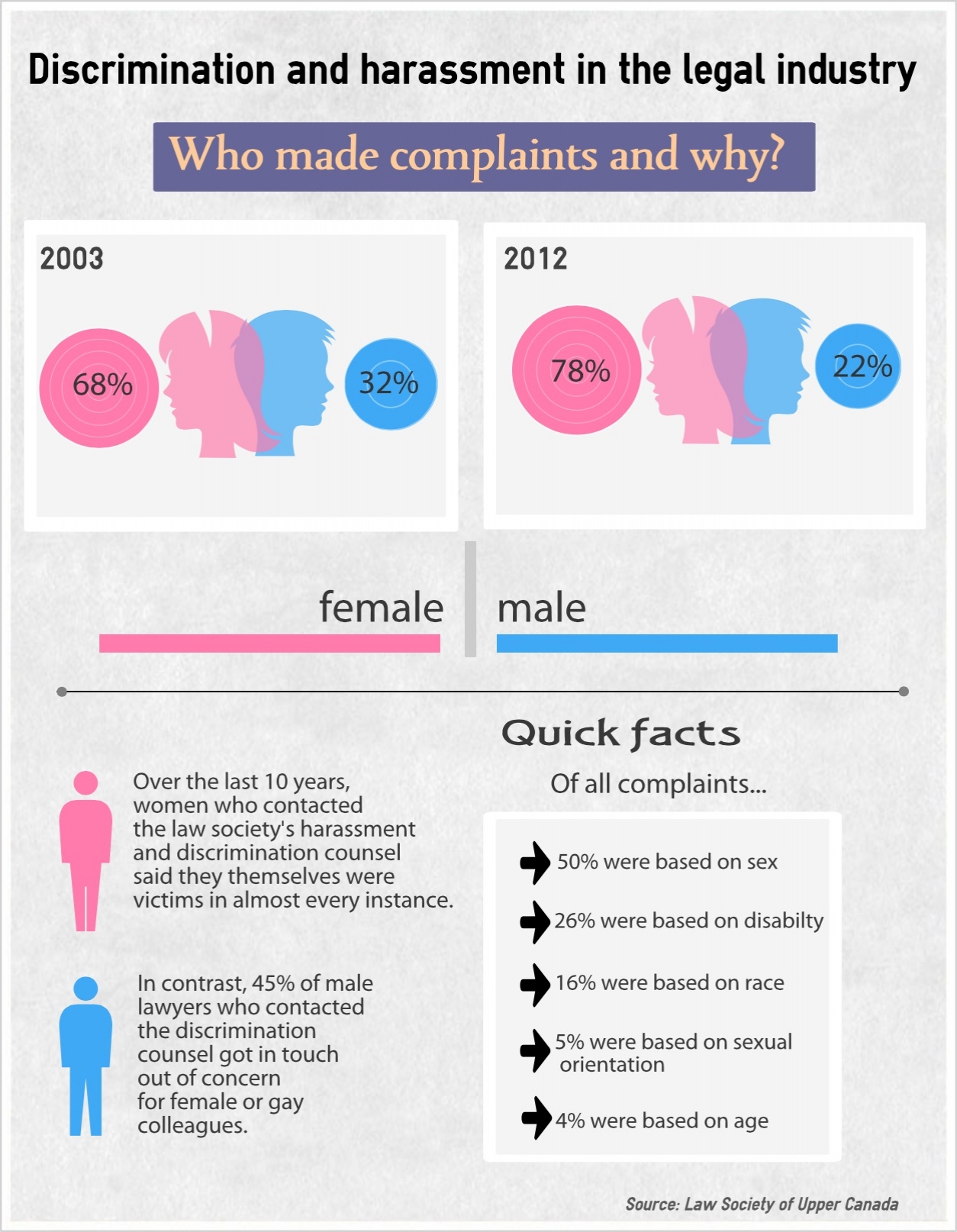 The report, written by LSUC discrimination and harassment counsel Cynthia Petersen, shows half of all complaints against lawyers and articling students in the last 10 years related to gender.
Of the 586 discrimination and harassment complaints made to Petersen's office against lawyers and articling students, 26 per cent of them related to disability and 16 per cent were on account of race. In five per cent of cases, complainants report discrimination because of their sexual orientation and four per cent made complaints related to age.
"Women and other equality seekers continue to experience discrimination in law firms," says Bencher Beth Symes. "It is a problem that's not going away."
Despite increasing in number within the legal profession, the report says practising law is still difficult for Ontario's racialized lawyers as well.
"The statistical data, research findings, and anecdotal evidence suggest that notwithstanding the increase in representation of racialized lawyers, they still face challenges in the practice of law," the report states.
Law society Treasurer Tom Conway said the report reaffirms the need for already-established equity programs. "The report indicates that all forms of discrimination and harassment are still persistent in the legal world and confirms the need for law society programs such as those established through the law society's retention of women initiatives. The report findings also reinforce the value of work now underway by our working group on challenges faced by racialized licensees," he said.
"We will continue to look at ways to address and prevent discrimination and harassment in the legal profession and address ongoing challenges," he added.
But Symes says the report is a sign the LSUC should be doing more. "It reaffirms that the law society needs to take more proactive action to ensure that women lawyers remain in the profession," she says.
"We need to hold the lawyers who misconduct themselves accountable because it is professional misconduct to do so. We need to hold law firms to account for how women lawyers do in the firm, in terms of retention, promotion,
et cetera
."
An overwhelming majority of complaints against lawyers by a colleague came from women. In 2003, women made 68 per cent of the complaints to the discrimination and harassment counsel. In 2012, that number actually rose to 78 per cent. The results of the 10-year report wouldn't have changed if it accounted for the last five years only, according to Symes.
"If you look at [Petersen's] report, it isn't that it's been going gently downhill. No, these problems continue at roughly the same level and they're the same kind of problems."
The results don't come as a surprise for Vancouver lawyer coach and consultant Linda Robertson.
"Harassment is a huge problem in the profession and it's largely because of a power imbalance," she says. "Women are still clustered at the junior end of law firms."
When it comes to pregnancy, an issue specifically raised in 46 complaints, Robertson says law firms have a hard time doing without their lawyers for the time women are away on maternity leave.
Part of the problem is the legal profession is rigid when it comes to accommodating work outside of the office, she says.
"I'd say law is, amongst all the professions, the furthest behind in offering or embracing flexible work arrangements," adds Robertson, noting she advises clients to allow associates to work from home via the Internet a couple of days a week. "It's remarkable how slow law is to change."
When women contacted the law society's discrimination and harassment counsel, they said they were the victims "in almost every instance," according to the report.
"The women who contacted the [discrimination and harassment counsel] with a sex-based complaint were reporting that they themselves had been the victim of sex discrimination or sexual harassment by a male lawyer or articling student, that they had suffered employment reprisals after making a complaint of sexual harassment against a male colleague, supervisor or client, or that they had suffered discrimination in their employment due to the fact that they were pregnant and/or had taken a maternity leave," the report noted.
In contrast, 45 per cent of male callers who reported harassment based on sex expressed concerns about the treatment of women or gay men they knew.
Symes says it would be "extremely helpful" to have public information detailing the number of women and minority lawyers at Canadian law firms and how they're faring. "This kind of information is readily available in the United States," she says, adding that such disclosure would allow for better tracking of progress over time.
Of the 583 discrimination and harassment complaints against lawyers, 318 of them were from the public and 265 were from within the legal profession.
Of the complaints from within the legal profession, 203 were by lawyers against a colleague; 57 were by law students against lawyers; and five were about lawyers by paralegals. {nomultithumb}