Refusing to renew driving licences of bankrupts who have outstanding highway toll debts goes against "the very foundation" of Canada's insolvency legislation, the Ontario Court of Appeal has ruled.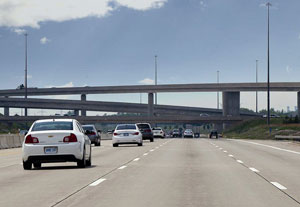 The court's decision reverses a lower court ruling in Canada (Superintendent of Bankruptcy) v. 407 ETR Concession Co. Ltd., in which a man who filed for bankruptcy lost his licence because he didn't pay his Highway 407 tolls.

Refusing to renew permits is one of the ways the province enforces payment of outstanding highway tolls. But the law on enforcing this rule against indebted Ontarians who have filed for bankruptcy was in flux prior to the appeal court's ruling as two lower court decisions contradicted each other on the matter.

While the Superior Court found it was acceptable to enforce the licensing regime in this case, it ruled differently in a similar case in April, finding that refusal to renew a licence because a discharged bankrupt driver hasn't paid dues "offends the fresh start principle" behind federal bankruptcy laws.

Now, the appeal court's decision is consistent with the April ruling and clarifies the law in Ontario, according to Mark Taggart, who represented the appellant. According to the appeal court, enforcing payment of a bankrupt's indebtedness through licence denial conflicts with financial rehabilitation.

"From a debtor's perspective, and indeed society's, financial rehabilitation is a primary goal of the bankruptcy regime," Justice Sarah Pepall wrote. "At its heart, permitting a creditor to insist on payment of pre-bankruptcy indebtedness after a bankruptcy discharge frustrates a bankrupt's ability to start life afresh unencumbered by his or her past indebtedness."

407 ETR had argued that enforcing its licensing regime does not impede on the fresh start principle of bankruptcy laws since its actions don't reorder how the bankrupt's assets are redistributed. It also said enforcing the regime is in the interest of the public and ensures bankrupts are not encouraged to continue using the highway without making payments.

But the court disagreed. "Discharged bankrupts do not represent a large segment of the adult population in Canada or in Ontario, and there was no evidence that would suggest that they are disproportionate users of Highway 407," Pepall wrote.

She added: "The 407 Act should not be used to permit ETR to occupy the collector's lane."

Taggart says Pepall's findings are right on the mark.

"Justice Pepall cut straight to the heart of the matter and recognized that when the 407 enforces claims that have been released by a [Bankruptcy and Insolvency Act] discharge order it frustrates the debtor's 'fresh start,'" he says.

"When a debtor earns his or her discharge it is not an invitation for creditors to find creative collection tools, like pulling the debtor's vehicle registration, to get around that order. The BIA provides a complete code for dealing with claims that every creditor must respect," he adds.

Tom Curry, counsel for ETR, did not respond to a Law Times request for comments. But Taggart says Curry is "leaning strongly" toward seeking leave to appeal to the Supreme Court of Canada.

One of the toll road company's arguments in the case was that driving is a privilege and not property, but the court said loss of a driving licence constitutes "a significant deprivation."

"The non-renewal of a vehicle permit does not just affect a discharged bankrupt's ability to drive his or her own vehicle on Highway 407 but on any road in Ontario. Frequently it is essential to employment as well as family transportation requirements and responsibilities," said Pepall.

"Ontario is a vast province. Denial of a vehicle permit has the potential to result in great hardship to a discharged bankrupt struggling to start anew. The importance of a motor vehicle is recognized in the assets identified by Parliament and the Legislature as being exempt from execution or seizure."

Licensing enforcement against discharged bankrupts is a subject of litigation in other provinces as well. In Alberta, a similar case, Moloney v. Alberta, was argued at the court of appeal in October. The court has not yet rendered a decision.