The legal community in Thunder Bay, Ont., is in mourning after the death of criminal lawyer Peter Mrowiec in a plane crash.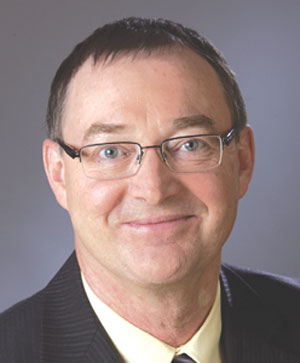 The 59-year-old died on Aug. 30 alongside his flight instructor when the single-engine aircraft they were flying in went down in bad weather in Utah.
"It's a huge loss, and we're all very sad about it," says personal injury lawyer Richard Courtis, who shared office space with Mrowiec for the last five years.
"In all that time, we never once had an issue. He was a really decent fellow. . . . Although we weren't partners, we both would run some of the issues we were facing by each other, and I'll miss that, too."
Two years ago, Courtis and Mrowiec acted on a shared lifelong interest in flying and signed up together for ground school pilot training. But Courtis says Mrowiec was particularly keen.
"Unlike me, he was a person who was able to find some balance between his personal and professional life, so I didn't always have time to attend the regularly scheduled classes and he got ahead of me," says Courtis.
"He was the much abler student and he spent much more time at it and eventually got his licence."
Recently, says Courtis, Mrowiec had been on the search for a plane of his own.
"He was on the Internet all the time researching and looking at used planes before he eventually settled on one."
According to the Salt Lake Tribune, Mrowiec had travelled to Utah to buy the plane, a       single-engine Alarus 235, and had retained the flight instructor for help with it.
Besides their work in Thunder Bay, Courtis and Mrowiec spent a lot of time together in remote areas of northwestern Ontario as part of the Nishnawbe-Aski Legal Services Corporation's panel of legal aid lawyers.
Lawyers on the panel fly to areas hundreds of kilometres north of Thunder Bay to serve clients at special court sittings.
"That's the work he liked doing the best," says Courtis.
In a statement, Mary Jean Robinson, a former colleague of Mrowiec's and currently Legal Aid Ontario's area director of the Nishnawbe-Aski Legal Services Corporation, remembered Mrowiec. "Peter and I practised law from a shared office for 10 years," she said.
"He was a dear friend, a colleague, and a tireless advocate for our clients from the day we opened our doors in the early 1990s. We relied heavily on him and he was always there for the people of the Nishnawbe-Aski Nation."
Tracy Roll, director of LAO's northwest district office, said Mrowiec's death was a "big shock to all of us."
"Peter was a respected and valued friend of LAO, an excellent lawyer, and a good person," said Roll.
"I admired that he could give so much to the profession and to his clients and live such a full life outside of the practice.
He not only made the time to share his expertise with our staff, he mentored one of our articling students and was about to welcome two more into his law firm. This is a huge loss for his family, the local bar, and for the many people he served."
Mrowiec was born in Fort William, Ont., and graduated from Lakehead University in 1982, according to an obituary in the Thunder Bay Chronicle-Journal. Following graduation from Osgoode Hall Law School, he was called to the bar in 1987.
Mrowiec's family has asked that in lieu of flowers, people make donations to the Peter Mrowiec Memorial Award, a scholarship set up for students at Lakehead's new faculty of law.