When Legal Aid Alberta lawyer Amna Qureshi walks into court, the hijab on her head is the last thing on her mind. There are clients to fight for who may be homeless or suffer from mental illnesses and can't afford a lawyer.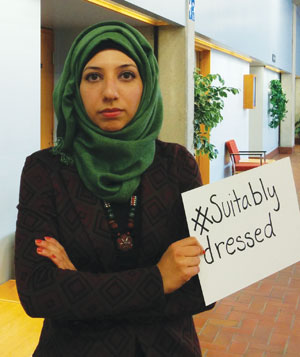 But when a Quebec judge recently cited the requirement for suitable dress in court as she told a Muslim woman she wouldn't hear her case unless she took off her hijab, Qureshi felt a need to comment on the issue.
"I am a hijab-wearing Muslim woman in court every single day," says Qureshi, adding her head covering has never been a problem for her on the job. "I felt I was in a unique position because I did know the law around freedom of religion in the courts and I felt what had happened in that Quebec court was an infringement on our law in Canada."
Qureshi is one of many Muslim women who have taken to Twitter to push back against the judge's remarks and post pictures of themselves in their hijabs while holding signs that declare they are indeed suitably dressed.
"It's extremely troubling that such basic civil liberties have to be continuously defended," says Qureshi.
"I have more important things to spend my time on than this issue, but that doesn't mean I'll stop talking about it."
Between controversy over the hijab in court and the debate on wearing the niqab during Canadian citizenship ceremonies, the Canadian Association of Muslim Women in Law has had much to respond to lately.
But Fathima Cader, a founding member of the association, says it's "a waste of time" for the government to appeal a Federal Court ruling that found it's against the law to ban the niqab during the citizenship ceremony.
Cader, a lecturer at the University of Windsor, scoffs at the government's argument that it wants to ban the niqab at the oath-swearing portion of the ceremony in order to protect women.
"What does it mean for a government that has explicitly refused to investigate the murders and disappearances of thousands, literally thousands, of aboriginal women in Canada . . . to now say we are so concerned about violence against Muslim women?" she asks.
"These claims are being used to actually obscure violence against indigenous women," says Cader.
"So as a Muslim woman and as someone who is deeply committed to social justice across communities, I will not stand for the use of my body or my community to negate the violence that is actually happening in this country."
The association has formally existed since the fall of 2013. Many of its members are young with the majority of them just a few years out of law school. For an association with such a specific membership — Canadian Muslim women lawyers — it has had a lot on its plate.
The association's members help each other with things like job searches and they also do external work that has included making submissions to the Law Society of Upper Canada on issues that are relevant to them and other equity-seeking groups.
One of those submissions was about the need for the law society to reconsider its own rules for law students taking the licensing exams. Previously, students wearing hijabs or "religious attire of any kind" couldn't take the exam without some type of exemption under the same rules that prohibit personal items like hats and winter coats. The law society has since changed the rules to provide for a general exception for religious attire.
Some Muslim students opposed the previous requirement for an exemption because it was onerous or potentially humiliating to ask for one. But Cader says the barrier was more psychological.
"You're reminded going into this space that you are different and there is this whole structure that has to be created around you even for practices that are very much a part of your daily life," she says.
Another of the association's submissions to the law society dealt with the regulator's report on issues faced by racialized licensees. Articling student Sofia Ijaz, who spearheaded that submission, says the association's membership includes women of various ethnic and linguistic backgrounds. In the submission, the group advocated for mandatory collection of law firm diversity data that shows not just the composition of employees but their positions as well.
In addition to breaking barriers to access to justice for individual Muslim women, Toronto lawyer Imtenan Abd-El-Razik says the association is also a vehicle for people to speak for themselves. It's about "being in a conversation where we're always the topic but we're never a part of the conversation," says Abd-El-Razik.