Toronto lawyer Juan Carranza says he always envisioned having a small-town practice in the big city, where he would practise different areas of law and his community would derive a special benefit from having a lawyer who spoke Spanish and knew about the cultural nuances.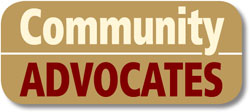 However, the reality of practising across a variety of areas has been slightly different, he says.
"You serve your clients better by focusing on one or two areas where you can achieve a certain level of expertise, so that's pretty much what ended [up] happening over time," he says.
Carranza, who was the first Central American to be called to the Ontario bar, now practises exclusively in the areas of personal injury and immigration law, located in what he calls one of the most culturally diverse communities in Canada - the Downsview area of north Toronto.
His firm has also significantly increased in size. While he began his community-based practice as a sole practitioner with just a desk and phone in 1994 after his call to the bar, Carranza Barristers & Solicitors has grown to include nine lawyers serving clients in 14 languages.
Community involvement has always been a priority for Carranza, going back much further than his days as a lawyer. Prior to law school, Carranza was involved in the Latin American community in Toronto as a volunteer. However, participation in the community also ended up inadvertently being key to the growth of Carranza's firm.
"When I finished law school, one of the incredible, huge benefits that I really hadn't anticipated was that . . . when I completed my articles, I had clients before I even set up my own practice.
"All of these different organizations and community centres that I had at different times been involved with knew about me and were sending me work. They knew me not necessarily as a lawyer, they knew me as someone who was working with the community, so that came before the law."
Being embedded in the community is a central vision of Carranza's firm, which is involved in a significant amount of community work. Each staff member and lawyer chooses what he or she wants to be involved with. Indeed, the first people who eventually joined the firm were people he knew through community work, so they also "shared the vision," he says.
"A lot of the people that we have sought to hire are people who share that vision. People who have a commitment to helping out the community, people who appreciate the fact that newcomers to the country, what they're really looking for is an opportunity to make a contribution to the country.
"I can't see being effective as a lawyer without having some kind of community participation. As a lawyer, you have to be able to put yourself in your client's shoes and the business of law has an intrinsic ability to isolate us from the communities we serve. So we have to work hard at going back to those communities so we are better able to understand what the issues are that are affecting the community."
The biggest reward, he says, is "when you see that you've been able to lift a heavy weight from someone's shoulders, when they come to see you with a problem that has taken over their lives, and you're able to do something to help these people go away feeling much, much better."
Carranza has also had to mentor some young lawyers - mostly those coming into the firm; another rewarding aspect of the job, allowing him to look back at the road he has travelled.
"I am always happy to talk to new people that are thinking about going out on their own. I've done that on a number of occasions and been able to share with them some of our experiences," he says.
On a personal level, Carranza is a member of the board of directors of Salvaide, a not-for-profit organization that does development work in El Salvador. He is also involved with the Hispanic Canadian Congress and with Casa Maiz, a community centre that promotes cultural activities and artistic expression from members of the Latin community.
Through Casa Maiz's monthly artistic presentation night, which includes musicians, poets, and drama skits, Carranza is able to act out a comedic character called Tio Claro, which he says "enables me to have my alter ego act out."
"I can say things that I can't do when I'm wearing my robes or when I'm meeting with clients," he adds.
Carranza also performs political satire through his Tio Claro character on a weekly internet-based radio show on Sundays, which will now also be broadcast on Toronto radio station CKLN.
Carranza says that his firm owes its growth to the support it has received from the Latin American community and the fact that the firm is regularly consulted by community organizations and businesses. Many of the cases the firm gets are also through word of mouth, he says.
"On the one hand, when they're served by a small firm like us, members of the community can establish a rapport.
"The fact that we have strategically decided to be this type of firm has made it an obligation on us to be embedded in these communities, so speak the language, understand the cultural issues, be committed to furthering the community's growth and development.
So I think that that is a significant benefit to the client in knowing that they have a firm that has a proven track record of seeking to further the community's objectives."
---
This profile concludes our summer series on Community Advocates. We hope readers enjoyed hearing about these members of the legal community.