Key political figures involved in the federal government's fight against crime have a favourite word: "commitment."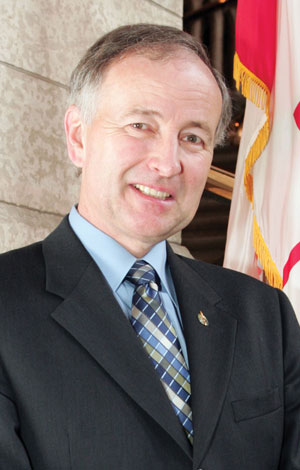 "It is the latest step in our continuing commitment to tackling crime," Justice Minister Rob Nicholson said in May in announcing new criminal law procedures.
"This is another example of our government delivering on its commitment to strengthening Canada's criminal justice system," Conservative MP Jacques Gourde said the next month in touting new restrictions on early parole for convicted murderers.
The word, along with language about "standing up for victims of crime," comes up repeatedly in government news releases, another indication of its unabashed focus on moving its crime agenda forward. In fact, 2009 turned out to be an exceptionally busy year for the crackdown.
The Conservatives introduced and passed a flurry of legislation, including an end to two-for-one credit for time served while accused criminals wait in remand and new laws targeting identity and auto theft.
"We are continuing to follow through on our tackling-crime agenda," Gourde said in June. "We are standing up for victims of crime and we are putting the rights of law-abiding citizens ahead of the rights of criminals."
Critics, of course, aren't so sure. Many defence lawyers are skeptical of the moves, which they say will merely cost the government more in building and running prisons while doing little to deter crime. Criminals, the argument goes, don't necessarily consider the possible penalties they'll face while breaking the law. At the same time, added resources would go to better use if the government put them into addressing the social causes of crime, critics say.
The arguments on both sides are perhaps somewhat stale given that they've both been making them for years. But in light of the major changes to our laws, a fresh perspective might be of some use.
In November, an outsider's viewpoint came when U.S. criminal justice researcher Jason Ziedenberg spoke at the Criminal Lawyers' Association conference in Toronto. "We've got the highest rates of lethal violence in the industrialized world," he said in remarks that were highly critical of the United States' long-standing bid to tackle crime through aggressive sentencing laws.
Among the problems there, Ziedenberg said U.S. prisons now house two million people at a cost of $70 billion a year, an amount that's becoming increasingly unsustainable. In California alone, 42,000 people are now in jail under the infamous three-strikes law, many of them for minor offences, he noted.
In many cases, the use of mandatory minimum sentences and the introduction of laws to make it easier to transfer youth to the adult court system have exacerbated the issue, he said in his Nov. 28 speech to Ontario criminal defence lawyers.
But in turning away from the familiar rhetoric about the failure of such laws, Ziedenberg said U.S. governments have in recent years been changing their approach. Already, 2009 is to be the first year in a long time that U.S. prison spending has gone down, he pointed out, noting that New York has loosened its so-called Rockefeller drug laws that set strict minimum sentences for such crimes.
As well, the recently introduced federal justice reinvestment bill also holds promise given its proposal to provide funding to states that move resources away from prisons and into parole programs, according to Ziedenberg.
In explaining the shift, he gave a number of reasons. "Current policy simply costs too much," he said.
"The decline in tax revenues is creating the perfect storm where they just can't pay for this anymore."
He also noted that while incidents of lethal violence remain high, rates for other crimes have gone down over the past 14 years. In addition, the fact that the system has put 13 million people in jail over the last 10 years has meant that when they get out, they're quite willing and able to tell friends and family about the limited use of prisons, he added.
But what was perhaps most interesting was Ziedenberg's description about how the critics managed to help bring about the recent changes. Research into the effects of tough-on-crime policies was key. For example, data showing the correlation between increasing spending on prisons and declines in resources for education helped turn the tide.
At the same time, building alliances with the presumed opposition - conservative politicians - was another factor. As Ziedenberg noted, proposals to loosen youth laws got a significant boost from former Republican senator Alan Simpson. In fact, he was a bigger advocate for the issue than many allies in the Democratic party, according to Ziedenberg.
"He's a right-wing fruitcake but he cares about this more than I've ever seen a liberal Democrat do," he said.
But what's most important is showing that tough laws don't work. For example, providing evidence that locking up parents interrupts the social fabric for their children and therefore does more harm than good when it comes to crime rates is particularly effective, said Ziedenberg.
"One of the biggest myths is you can't do anything about it," he told the audience.
Here in Canada, meanwhile, governments are largely moving in the opposite direction. But it's worth noting that it's not just federal Conservatives who are making the new laws happen. In October, for example, the two-for-one legislation managed to get Senate approval in part due to the absence of Liberal senators whose party had been proposing amendments to weaken it.
Of course, the issue isn't always about philosophical questions on whether tougher laws work. Last week, for example, the Canadian Bar Association came out with criticisms of the federal government's bid to increase jail terms for white-collar crimes.
"While fraud can certainly be a serious crime with devastating consequences for its victims, based on our experience as both Crown and defence lawyers from all regions of Canada, we believe that bill C-52 is directed at a problem that does not exist," said Suzanne Costom, a member of the CBA's national criminal justice section.
The problem, she said, is that judges already have the latitude to hand down severe sentences for major frauds, a liberty they regularly make use of. "We believe that bill C-52 would not add to the tools already found in the Criminal Code."
The debate, then, continues.