As a high school student, Michael Lacy could barely have imagined meeting his idol Eddie Greenspan, let alone working with him one day.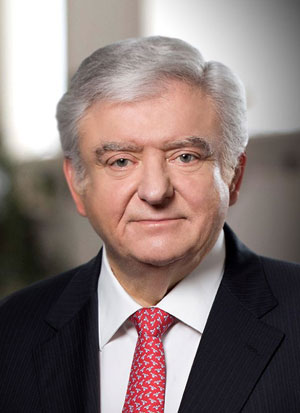 "I know it sounds cliché, but he really was the reason I wanted to be a lawyer and practise criminal law," says Lacy of Greenspan, the legendary criminal defence lawyer who died on Dec. 24 at the age of 70 on holiday in Phoenix, Ariz.
The dream eventually did come true for Lacy, a partner at Greenspan Partners LLP, although it seemed for a long time that it might never happen for him. Despite crossing paths repeatedly with Greenspan, Lacy failed to penetrate the larger-than-life public persona projected by the veteran practitioner in his public and media appearances.
Nervousness got the better of Lacy after a law school talk given by Greenspan, while his articling application to Greenspan's firm ended at the first interview stage without meeting the man himself. Years into his practice, Lacy rented an office in Greenspan's building, but it was still two years before the two spoke meaningfully.
"I was so intimidated but then I got the chance to work directly with him on a file. That's when I saw the brilliance of Eddie Greenspan in action," says Lacy.
"He was an amazing strategist, his work ethic was unparalleled. . . . But what struck me the most was how collaborative he was. He was generous with his time and was not only willing to discuss legal issues and strategy with me, he actually wanted to hear what I had to say."
Todd White, who spent more than two decades as Greenspan's law partner before starting his own criminal defence firm, says he, too, had issues overcoming anxiety at first about meeting one of the most renowned and revered criminal lawyers in the country.
"When I got to know him, I found not only a great lawyer but also a sweetheart of a man. His public personality had nothing to do with his private personality. I found him a shy, extremely funny, and very generous person," says White.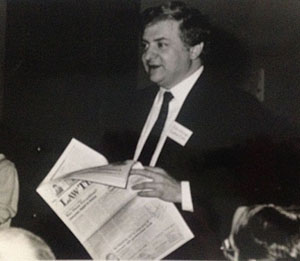 According to White, Greenspan's openness to fellow lawyers in need of advice made his office a hive of activity.
He says Greenspan would never say no to a defence bar colleague with a legal or ethical problem.
"Countless people would call to talk, and he would drop everything to help them figure it out," says White.
According to Niagara Falls, Ont., lawyer George Walker, Greenspan also placed the odd phone call himself. He remembers hearing from his old friend, who also grew up in the city at the same time as Walker, out of the blue while defending Karla Homolka.
"It wasn't to give advice or anything about the case. Obviously, he had had a lot of experience working on very high-profile cases and he just wanted to check I was doing OK emotionally. He did that a number of times. He was very caring that way," says Walker.
The pair became close as young lawyers in Toronto. "Niagara Falls boys stick together," says Walker, who notes he has never seen a courtroom performer like Greenspan.
"He had this structured method of cross-examination, but if the Crown sprung something on him during the course of the trial, he could develop an argument on his feet. More often than not, those arguments were successful. It didn't matter how long a trial was; he had a steady pace and he never lost it. He wore Crowns down and he wore witnesses down. You could see it in the courtroom."
A young Edward Prutschi, now a partner with criminal law firm Adler Bytensky Prutschi Shikhman, used to skip school to watch Greenspan work his magic in court.
"He was so calm and collected and had such a dominant personality without ever having to raise his voice, display anger or even overt emotion," says Prutschi.
"With a couple of casual questions, he could make the courtroom shrink so it felt like it was just him and the witness there. It could be half an hour before they realized they'd been painted into a corner where he wanted them, and by then it was too late to weasel out because he'd laid the groundwork so perfectly."
Earl Cherniak, a long-time friend of Greenspan, says one of his trademark cross-examinations provided a highlight of their working relationship. Cherniak was in Chicago observing Conrad Black's criminal trial in his role as Black's lawyer in numerous civil matters when the press baron's former business partner and key prosecution witness David Radler took the stand.
"Then I watched Eddie decimate Radler," says Cherniak.
"By the time he was finished, if Radler told you what day of the week it was, you'd want to check the calendar before you believed him."
Cherniak says Greenspan's recipe for success was relatively simple albeit difficult to replicate.
"First, he had a brilliant mind and second, he worked harder than anyone. When Eddie said that it would take him 50 hours to prepare for one hour of cross-examination, he was not exaggerating. That's what it takes, so that's what you do. Add to that his personal qualities, and you had a remarkable man."
White says Greenspan in full flow in court could look like magic.
"It wasn't really magic, it was hard work. I think his work ethic and preparation made him the greatest cross-examiner. He poured over every transcript and looked at every aspect of the case," he says.
Still, he can't help but acknowledge an element of the mystical in Greenspan's work.
"He did have a wonderful sixth sense for knowing if someone was lying, exaggerating or telling the truth," says White.
Lacy says Greenspan's death leaves a huge gap in both his professional and personal lives as well as those of his many friends and family members.
"In the end, Eddie was so much more than that person I idolized as a young student and wanted to be when I grew up. Knowing him surpassed all of my expectations. He was my mentor, my partner, and a dear friend. And I will miss him greatly."