VANCOUVER -- When a mudslide destroyed Dugald Christie''s ocean-view home in 1982, Christie, then a young corporate lawyer, saw it as a message.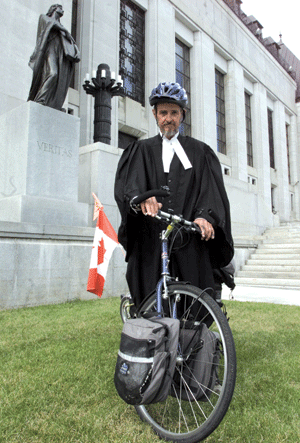 Rather than simply file an insurance claim and rebuild, he tried to determine what God was trying to tell him. Through the years, his Anglican faith deepened. He spent a day a week on pro bono work. Then it increased to two days. By the late 1990s, Christie's entire life was devoted to giving the poor access to justice.
Twice, Christie set out across Canada on his bicycle to make a point. In 1997, angry at the Chretien government's cuts to legal aid and its patronage appointments, and furious that the government of B.C. had imposed a seven-per-cent surtax on the value of pro bono fees, he cycled to Ottawa and burned his robes on the steps of the Supreme Court. Then he resigned from the bar.
This summer, he rode east again, this time toward the CBA conference in St. John's. Since his last trip, he'd had a hip replacement and, friends said, was hard of hearing.
At the conference, he planned to move a resolution calling on governments to ensure that those who cannot afford legal services can access the justice system. But on July 31, Christie was struck and killed near Blind River, east of Sault Ste. Marie, Ont.
His funeral Aug. 5 drew several hundred people to St. David's United Church in North Vancouver. Among them were former clients and several dozen lawyers wearing their robes.
Last year, in a ruling in Christie's fight against taxing legal fees, the B.C. Supreme Court found parts of the provincial sales tax law were unconstitutional, as it limited the "fundamental right of access to the court of low-income persons." Justice Marvyn Koenigsberg ruled that British Columbians with annual incomes below $29,000 would no longer have to pay sales tax on their lawyers' bills. The court also ordered the B.C. government to reimburse, with interest, more than $6,200 seized from Christie for unpaid sales tax.
Christie appealed to the Supreme Court of Canada, saying all people should be exempted from the tax.
Darrell Roberts, who represented Christie in the British Columbia courts and will argue the case at the Supreme Court, said Christie vehemently opposed the tax because it "fell most heavily on the poor," and that justice was increasingly becoming "the precinct of the rich, as lawyers' fees and the cost of practising placed it out of reach" of most people.
Christie carried a petition with him on his last trip that asked for greater government funding for legal aid and more user-friendly legal wording. He planned to try to give that petition to Prime Minister Stephen Harper.
Soon after he quit the bar, Christie told a reporter, "It made a big difference -- to me it was quite a revolution, and I've had an exciting time of it since then. Very often when I go through trying times, I ask myself, 'Who am I, trying to reform the law?' But then I'm reminded that it's not me, it's the Lord."
Roberts said Christie's zeal may have been inspired by his four grandparents, who were missionaries in Asia. His paternal grandfather, Sir Dugald Christie, was physician to the Dowager Empress of China until all foreigners were forced to leave the country during the Boxer Rebellion.
Christie lived in a tiny room in the Salvation Army's Dunsmuir House. He worked 12 hours a day, calling lawyers to press them to do more pro bono work. And he set up The Western Canada Society to Access Justice, a network of 60 legal clinics throughout B.C. It recently expanded into Alberta and Saskatchewan.
"He believed the majority of lawyers had a pent-up desire to help the underdog," said Bruce Fraser, chairman of the board of the WCSAJ, "and would respond to a request by the disadvantaged.
"Now, Dugald was known to sometimes slap that hand just to get their attention," he added.
Writing in 2003, Christie said, "The combined effect of the increased complexity in the law and the ever-quickening pace of change in the law makes it increasingly difficult for clients to find a pro bono lawyer whose skills match their needs.
"To all these problems, we must now add the severe provincial government cutbacks to the Legal Services Society. Now no more than approximately 10 per cent of persons on low income with legal problems can obtain help from legal aid.
"That help is restricted primarily to serious criminal charges where the Crown seeks a prison term, deportation order, or child detention order. Often a mother who has a claim on behalf of her children for child maintenance has nobody to help her in fighting counsel for her husband unless a pro bono lawyer assists," he said.
CBA President Brian A. Tabor said in a statement that members of the association were saddened by Christie's death.
"Dugald was a dedicated fighter for the rights of Canadians who could not access the justice system. His determined advocacy for more legal aid funding and pro bono legal services, grounded in his belief that the law should protect everyone regardless of their station in life, represents the best to which the law and the legal profession can aspire."
B.C. Law Society President Robert McDiarmid, who knew Christie for many years, said, "Dugald fought tirelessly for the rights of the poor to have access to legal representation. He was a fearless advocate who loved pushing the envelope in the interest of his cause, and who was a remarkable lawyer.
"Dugald exemplified many of the fine things about our profession. His death is a deep loss to the legal community, and our condolences go out to his family and friends."