OTTAWA - The Supreme Court of Canada's split decision overturning a child-pornography conviction because of misleading information used to obtain a search warrant sets strict ground rules for police as pressure mounts to curb child pornography, defence lawyers say.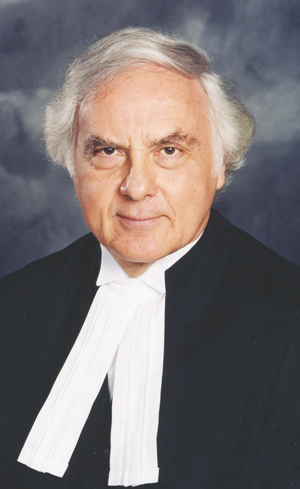 But federal Justice Minister Rob Nicholson is reviewing the judgment, at least in part given division within the court about whether a computer's stored cache of images from an illegal web site constitutes possession under Criminal Code provisions covering child pornography, an aide to Nicholson says.
"Yes, the government is reviewing the decision," Geneviève Breton, Nicholson's communications director, told
Law Times
in response to a question about whether Nicholson is considering a legislative amendment to clarify the status of a computer's cache in child-pornography prosecutions.
"As indicated in the speech from the throne, we will be looking at increasing the penalties for sexual offences against children," Breton said in an e-mail. "We also intend on reintroducing our government's legislation on the mandatory reporting of Internet child pornography."
The comments and debate about the potential criminal status of a computer cache, although significant for future investigations, was almost an aside compared to the scathing criticism Justice Morris Fish levelled at the information an RCMP constable swore to obtain a search warrant in the remote northern community of La Ronge, Sask.
"It is difficult to imagine a search more intrusive, extensive or invasive of one's privacy than the search and seizure of a personal computer," Fish wrote for the majority.
"First, police officers enter your home, take possession of your computer, and carry it off for examination in a place unknown and inaccessible to you," he said, adding police then "scour" its contents.
"That is precisely the kind of search that was authorized in this case. And it was authorized on the strength of an information to obtain a search warrant that was carelessly drafted, misleading, and factually incorrect," Fish wrote at the outset of the decision in
R. v. Morelli
.
Among other things, Fish slammed the investigating officer for including false suggestions that a phone company technician had seen child pornography on a computer owned by La Ronge resident Urbain Morelli.
The technician, while installing a high-speed Internet connection, had actually seen only "favourites" icons for two child-pornography web sites and icons for adult pornography as well as an adult pornographic image on the computer.
The information also included insinuations that a webcam near a child's play area in the home was linked to the two icons and related to child pornography as well as false suggestions that the technician had seen "Lolita porn" on the computer screen that had been removed when he visited again the next day.
"The only pornographic image that [the technician] actually did see - an image on the accused's desktop or Internet homepage - was perfectly legal adult pornography," Fish wrote.
Fish, among other comments, emphasized the distinction between a computer's cache of images viewed over the web and data that has been downloaded from a web site in his criticism of the information used to obtain the warrant.
Citing previous decisions and explaining computer functions during the process of accessing web sites, he wrote that "the automatic caching of a file to the hard drive does not, without more, constitute possession."
"While the cached filed might be in a 'place' over which the computer user has control, in order to establish possession, it is necessary to satisfy mens rea or fault requirements as well. Thus, it must be shown that the file was knowingly stored and retained through the cache."
Justice Marie Deschamps, with justices Louise Charron and Marshall Rothstein concurring, argued that despite the faults, the contents of the information could have given a justice of the peace reasonable grounds to believe there was child pornography in the computer.
Phil Downes, a Toronto criminal defence lawyer, says Fish's ruling sets a landmark for computer searches in Canada.
"He explains, it seems to me, why it's absolutely crucial that information to obtain search warrants be fair and accurate because of the incredible invasion of privacy involved," Downes tells
Law Times
.
Frank Addario, past president of the Criminal Lawyers' Association, says that "search warrant practice in Canada has been getting progressively sloppier. The court took the opportunity in this case to correct that drift."
But for some members of the public, Fish's goal of preventing the administration of justice from falling into disrepute rings hollow. The eventual search, four months after the technician visited Morelli's home, found child pornography on the computer.
"It's upsetting, it seems very wrong," Heidi Illingworth, executive director of the Canadian Resource Centre for Victims of Crime, tells
Law Times
.
Eugene Meehan, chairman of the Supreme Court practice group at Lang Michener LLP, noted it took the seven judges 13 months to produce a judgment after hearing the case in February 2009. "Generally, an extended delay is a marker the court is having an extended problem coming to a decision."