The federal Department of Justice spent over $24 million on outside legal counsel in 2008, with the largest share - $9.2 million - going to global firm Weil Gotshal & Manges LLP's Washington, D.C. operations, Law Times has learned.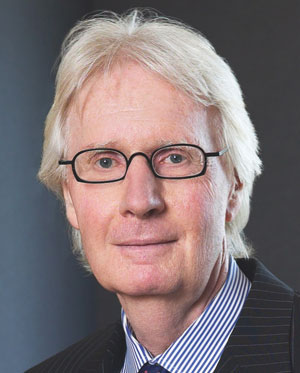 Documents obtained through the Access to Information Act indicate that the Toronto law firm Lenczner Slaght Royce Smith Griffin LLP received the biggest payout though federal government work among its Canadian counterparts, at over $4.1 million.
"We have a good relationship, and most of these cases are cases the government seeks expressions of interest," says Lenczner Slaght managing partner Ronald Slaght.
"We like doing the work - it has a lot of appeal. It gets you into court, there's a public interest aspect to it, which we really like. And obviously you discount your rates, but nonetheless it's very enjoyable, and we're the kind of firm that can do that."
Macleod Dixon LLP's Calgary, Alta., operations received the third-highest valued work from the feds for non-criminal Crown agent work, at nearly $1.3 million. Lang Michener LLP's Ottawa office came fourth at nearly $607,000, and Calgary's Code Hunter LLP finished fifth at $605,000.
Rounding out the top 10 for 2008 are Edmonton's McCuaig Desrochers LLP at $562,000, Calgary's Miles Davison LLP at $560,000, Gowling Lafleur Henderson LLP's Ottawa office at $543,000, Vancouver's Bull Housser & Tupper LLP at $435,000, and Whittle & Co. in Whitehorse at $384,000.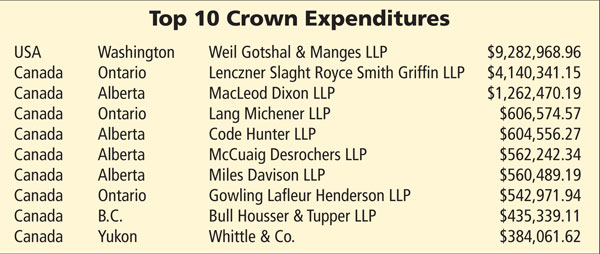 In total, the feds spent over $14.2 million over the year on legal work from Canadian firms, $10.1 million from U.S. firms, and $5,350 from firms from other countries.
Weil Gotshal has represented the federal government in its ongoing trade battle with the U.S. over softwood lumber.
Slaght says he was involved in a major file his firm worked on for the federal government involving a fraud claim in Canada v. Granitile Inc. He says the case involves an original judgment against the Crown a few years ago arising out of a government incentive program for Atlantic Canada.
"We were able to prove that the judgment had been obtained by a fraud, particularly the forgery and fraudulent creation of 14 letters, which had been seeded into the record," says Slaght, adding the firm was originally obtained by the feds on that matter in 2001.
The firm represents the federal government in tobacco litigation, specifically on the smuggling side of civil claims against tobacco companies, says Slaght.
The firm also represented the feds in reaching settlements with two such companies last year - R.J. Reynolds and Imperial Tobacco, in which the federal government obtained about $1.5 billion, says Slaght. The firm continues to act with the government on litigation involving JTI-Macdonald Corp.
The firm also acts for the feds on other major cases, he says.
"It's a big client, obviously, in the sense of objectively it's a lot of stuff that goes on with the government of Canada," says Slaght.
"The government is a very sophisticated client, and they know the legal landscape and they know where value is and they know who has got a good reputation.
They are pretty good at making decisions, so you have to have a sort of sophisticated approach to it, which might not be the conventional wisdom when you think about governments. But I'm constantly impressed by the people we work with, and they're pretty sophisticated."
Michael Rankin, managing partner in Lang Michener's Ottawa office, says his firm worked on one major construction litigation case for the federal government in 2008. The matter was put out for an RFP, and the firm was the successful bidder, he says, adding that the firm continues to work on the file.
Rankin says the matter involves construction on the Library of Parliament and is related to a claim for extras and delay claims associated with the contract with Thomas Fuller Construction Co., Ltd.
He suggests that Lang Michener was selected for that contract due in part to the lack of other large Ottawa firms with capabilities in the area, but also due to the firm's "expertise and depth."
Rankin says, "Any time you can be awarded a substantial contract such as this one, it's a good shot in the arm for the firm. We're always seeking new sources of revenue and new sources of business, and to be able to land a file such as this one is considerable for our office.
"I think it was a real win-win situation because the complexity and just the magnitude of the case was such that in the timing of the case, it really was something that no longer could be managed on an in-house basis. So the government really needed help, and we really had the resources, so it was a perfect fit."
Macleod Dixon LLP partner Clarke Hunter was involved in the firm's major file with the feds in 2008 involving multibillion-dollar oil and gas claims brought by a pair of Alberta First Nations.
The case, Buffalo v. Canada, began in 1993 and involved a four-year trial and appeal to the Federal Court of Appeal with four weeks of oral argument. The case then reached the Supreme Court of Canada in 2008, where the government received a favourable decision this February.
While there could be more issues to litigate in the matter, says Hunter, the SCC decision concluded a major phase of the proceedings and was "gratifying."
"It was an important and challenging case, so we were pleased to be involved with it and have a good relationship with the people in the Department of Justice and the Department of Indian and Northern Affairs that we worked with defending this case over a long period of time," says Hunter.
He adds that the case involved many oil and gas issues, as well as financial management issues, and Macleod Dixon's corporate-commercial background likely appealed to the federal government in that context.
"This is kind of a unique case because of its size and scope," says Hunter. "So this is not your typical government file, I would say. I think some of the other firms that bill a lot of government work, its many smaller files; this was one major file."