Despite a hefty list of legal issues resting squarely on her shoulders, Jody Wilson-Raybould is in a good position to carry the load as Canada's justice minister, say several people who know her.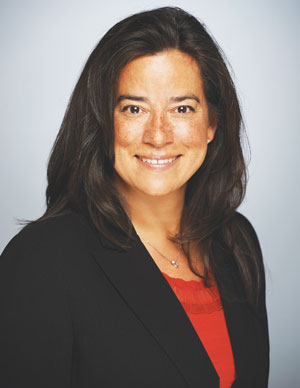 The daughter of well-known and oftentimes outspoken First Nations politician and University of British Columbia law graduate Bill Wilson, Wilson-Raybould brings her father's passion and determination with the added finesse of patience and a sharp acumen for all levels of the law, say those who knew them both.
"It's incredibly significant to have her appointed, unprecedented," says Grand Chief Stewart Phillip, the president of the Union of British Columbia Indian Chiefs who has known Wilson-Raybould for about 12 years.
"There was a time I thought she would be the national chief, but I quickly realized that's aiming too low."
The two actually ran against each other for regional chief in 2009, but Phillip quickly dropped out of the race and threw his support behind Wilson-Raybould.
"I realized she was a very gifted leader and she was going to be an important person in any position she took," says Phillip.
"She simply stood head and shoulders above all of us, so I stepped back and found myself advising her instead."
With Prime Minister Justin Trudeau's appointment of Wilson-Raybould as justice minister this month, the rookie MP for Vancouver Granville made history as the first aboriginal to hold the job. A lawyer called to the bar in 2000, she's a former regional chief of the British Columbia Assembly of First Nations who has also acted as an adviser for the B.C. Treaty Commission. She has also been a director of the First Nations Lands Advisory Board and chairwoman of the First Nations Finance Authority.
Former B.C. attorney general Wally Oppal says that as a Crown prosecutor, Wilson-Raybould worked out of the Main Street courthouse in Vancouver that's in the heart of the city's Downtown Eastside.
"She knows first-hand the issues facing the justice system. She would have an intimate understanding of the issues facing access to justice, particularly for the unrepresented, the impoverished, and those in despair," says Oppal.
"On top of that, she brings an understanding of aboriginal issues that will help lead issues like the missing women's inquiry or reconciliation."
Oppal says that as a former attorney general for his province, he knows the challenges Wilson-Raybould faces in her first few months on the job with an agenda filled with hefty issues such as physician-assisted suicide, the inquiry into missing and murdered aboriginal women, and mandatory minimum sentences for gun offences. "She has a plethora of major issues already, but I can tell you she is an independent thinker that will tackle these head-on," he says, adding he's confident she'll begin drafting the terms of reference for the missing women's inquiry.
"My advice to her would be that the terms of reference need to be clearly drafted with strict guidelines. I would also say don't go over the same ground we already have in B.C., and I know she'll get her feet on the ground and into these communities to see the poverty, violence, and despair."
Former Law Commission of Canada commissioner Mark Stevenson watched Wilson-Raybould grow up and worked with her father for many years. "In fact, it was Bill that suggested that I go to law school. When I worked for him, he was brilliant and one of the most articulate political leaders in his day," says Stevenson.
"He also didn't suffer fools lightly. Jody is articulate and she inherited her father's brilliance but has learned more patience."
He says that during her time with the treaty commission, Wilson-Raybould proved to be a skilled listener who was "painstakingly impartial."
"At the same time, she was never shy of intervening but did so with impeccable timing and always to move the discussion along by guiding the parties towards creative solutions," says Stevenson.
"At the same time, there are very high expectations from the indigenous community. After a decade of darkness, we will want to see things move quickly."
Stevenson says Wilson-Raybould will have to move decisively on several fronts, including the legal issues stemming from the recommendations by the Truth and Reconciliation Commission of Canada, appointments of aboriginals to the judiciary, and making space for aboriginal laws within Canada's constitutional framework. In his view, her two biggest challenges will be bringing change to a bureaucracy that he says has made a radical shift to the political right over the last 10 years and ensuring that her department doesn't get in the way of the new government's agenda for implementing the recommendations of the Truth and Reconciliation Commission.
Miles Richardson, a former commissioner of the treaty commission, says that when he needed a skilled negotiator, he immediately reached out to Wilson-Raybould for his team.
"She spent a lot of her time paring down the key obstacles to treaty negotiations," says Richardson, noting he expects Wilson-Raybould will be a great consensus builder. "She understands the issues, she has a deep sense of her own values, and she's a very proud member of her First Nation and she's equally proud to be a Canadian and she can see where those values overlap."
Phillip, meanwhile, says there will be a lot of pressure on Wilson-Raybould to fulfil promises to repair the government's relationship with aboriginals.
"She has a lot of work to do, not only in repairing relationships but of cleaning the mess from the Harper regime in terms of passing legislation that was not in the interest of indigenous peoples," he says, referring to the government of former prime minister Stephen Harper.
"It appears we've collectively survived the long, dark years. Now, it's a new day and there are very exciting opportunities that lay in front of all Canadians because Prime Minister Trudeau was so strategic in his cabinet appointments."