Immigration lawyers who purchase a permit to practise foreign laws from Ontario are calling on the Law Society of Upper Canada to crack down on violators who ignore the requirement.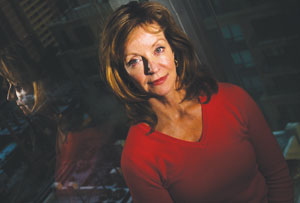 Eleanor Somerleigh, a corporate immigration lawyer at Rekai LLP in Toronto, pays $250 each year for her foreign legal consultant permit as required by LSUC Bylaw 14. In addition to her membership with the LSUC, Somerleigh is also a qualified lawyer in the U.S. state of Colorado. To get her permit, the LSUC requires her to take out matching insurance for her U.S. matters, which costs an additional $2,700 each year, despite the fact Colorado doesn't mandate professional liability insurance.
"I think it's a two-tier system. The rule followers are penalized while the rule breakers are not," says Somerleigh.
According to statistics supplied by the law society, Somerleigh is part of a very select group. Since 2010, it has granted permits to no more than 65 lawyers in any one year.
In 2014, there had been just 48 successful applicants by the end of November. Henry Chang, an immigration lawyer with Blaney McMurtry LLP, says that represents an "extremely small percentage" of those actually practising foreign law in Ontario.
"Most just don't bother getting the permit because they know the law society doesn't care," says Chang.
"The fact nobody has ever been fined clearly shows they're not looking at enforcement."
The provincial Law Society Act empowers the LSUC to prosecute people giving foreign legal advice in Ontario. The offence has a maximum fine of $25,000, but LSUC spokesman Roy Thomas said in a statement he could find no record of it levying any fine. In addition, he said it doesn't track investigations into members suspected of
violating Bylaw 14 "given that such cases are so uncommon."
Chang, a lawyer qualified to practise law in California who spends $3,000 each year on his equivalent insurance in addition to his LawPRO premiums, says the only people feeling any heat from the regulator are permit holders nearing their annual renewal dates.
"Instead, the law society spends their time chasing down and threatening us that we'll be prohibited from giving advice on foreign law if we don't renew on time," says Chang.
"We're not the ones they need to worry about. I know one colleague who got a call from them and they said, 'Well, you wouldn't drive without a driver's licence, would you?' I think my response would be that if the police never gave out tickets for driving without a licence, I might just drive without one."
Negar Achtari, an Ottawa-based Canadian and U.S. immigration lawyer who's a member of the bar in both Ontario and New York, says that as a sole practitioner, the permit represents a significant drain on her time and finances.
"I have a hard time understanding what I am getting for the amount I pay. It creates a lot of unnecessary headaches. If you're going to force me to go through all these administrative hoops, then at least enforce the restriction," she says, adding she suspects the bylaw may represent an overstepping of the LSUC's jurisdiction.
"My U.S. licence is governed by a U.S. body, and I'm answerable to them if someone was to file a complaint against me. . . . The Law Society of Upper Canada is not the one that gave me the licence in the first place, so they should not be the ones governing this."
Chang had doubts about the bylaw when it first came about in 2007 but says he accepted the need to protect the public from the unauthorized practice of foreign laws in Ontario. However, he says he has become more and more disillusioned with the law society's lack of enforcement in the face of blatant violations.
Chang says he knows of plenty of lawyers and paralegals in the immigration field who simply ignore the requirement for the permit either because of the expense or they don't have a licence in the foreign jurisdiction.
"If it's such a big deal, why aren't they doing more to protect the public?" he asks. "Those are the easy ones because they can discipline them without going to court. At least give them a warning to comply or be suspended."
Chang says the law society may have more trouble chasing down non-LSUC members advertising foreign legal services but suggests it could launch an investigation with a simple Internet search for some common foreign legal matters. He says law society representatives have encouraged him to make complaints if he suspects certain firms or lawyers of violating the rules around the permit but always counters that the regulator is free to initiate its own investigation without a complaint.
"The immigration bar is a very small one, and you don't really want to be known as the one who ratted out everyone else," says Chang.
"They don't need me. They just need to spend two minutes Googling and then send some demand notices."
Somerleigh says she frequently comes across clients whose previous representatives have offered them foreign legal services without holding permits. In U.S. immigration law, she says the most common matters are spousal sponsorships, H-1B visa applications, and U.S. entry waivers.
Achtari says Canadian immigration lawyers also often give themselves away on list serves by asking for help with foreign legal matters.
"You get Ontario lawyers who come across U.S. immigration issues and just attempt to sort out the problem themselves," she says.
In the absence of an enforcement drive, Achtari says a public information campaign would help ordinary Ontarians understand that permit holders should be handling their foreign legal matters.
"I'm always amazed at how much time and effort it takes a client to find someone like me who is qualified to deal with a U.S. immigration issue," she says.
"They should be able to find out that information. Why not at least make a list of all the foreign legal consultants in Ontario?"