Hussein Hamdani is a Hamilton, Ont., corporate and real estate lawyer but he also has what one might call a unique
pro bono
practice.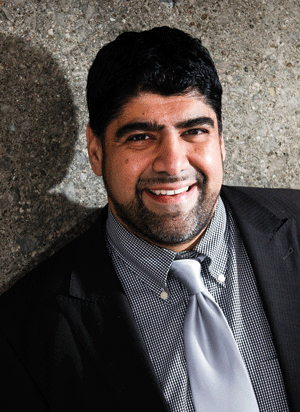 When his phone rings, it could be from a corporate client but it could also be from parents afraid their son wants to join a terrorist group.
In the summer, the parents of Mohamud Mohamed Mohamud reached out to Hamdani to help them stop their son after tracking his cellphone in Turkey. They suspected he was on his way to Syria where he'd join the Islamic State.
"It was too late," says Hamdani, a lawyer at Simpson Wigle Law LLP. Police informed the family in September that Mohamud had likely died in Syria.
Over the last 10 years, he says he has started seeing himself as "a translator, but not of language."
Hamdani is one of the founding members of the federal government's cross-cultural roundtable on national security and he has connections to the Royal Canadian Mounted Police and the Canadian Security Intelligence Service. He's also an active part of the Muslim community in Hamilton.
"I felt I had to be like a bridge between the two," he says.
When troubled parents call, they often say, "We don't know what to do. We need your help here," says Hamdani.
Not every matter is as serious as Mohamud's. Often, kids have gotten into trouble at school and are displaying troubling behavioural issues. "They ask me to sit down and talk to them," he says.
He tells young people his own story of how he arrived in Canada as a refugee at the age of six after travelling first to Yemen from Uganda. He tells them about having to share a two-bedroom apartment with 18 of his relatives in St. Catharines, Ont.
"Many of them are newcomers and I tell them, 'Look, I went from a refugee to becoming a partner at one of the largest law firms in the region. If I can do it, you can do it,'" he says.
"Sometimes, that's it. But sometimes, it's more serious when parents say, 'I think we need an intervention here that's deeper.' And in more dangerous case scenarios, [the kids] are tripping into criminal activity, terrorist activity."
That's when he gets the RCMP and CSIS involved as he tries to work with them to stop people from going down the dangerous path of destroying their own lives and harming others.
Getting families to agree to the authorities' involvement is tough, says Hamdani, who asks parents in these situations whether or not they want their child to live.
"Every parent, no matter where they come from or what religion they come from, if you ask them, 'Would you rather your son or daughter be alive or dead?' they say they want their children to be alive.
"So then I say, 'Let's save them. And to save them, we need help.'"
Hamdani says he's frank about the fact that if police intercept them, the youth could face jail time.
In some cases, not making an arrest is the more fruitful option, he says. But deciphering those cases from ones that need the RCMP to take heavy-handed action is a difficult task.
"We don't want to criminalize the relationship but at the same time, we don't want them going over bounds we can't see," says Hamdani.
Sgt. Derek McDonald, a senior outreach officer with the RCMP, knows it's a crucial balance. When a parent calls Hamdani about a child who has left and could be up to something nefarious, the lawyer often reaches out to McDonald.
"You know, we ask the communities to reach out to us for assistance, so it's important to get that human approach as opposed to at that uniformed approach, that 'just the facts, ma'am' kind of thing. Hussein is very good at that," says McDonald.
It's important not to go in "with a preconceived notion that we need to make a big deal or a federal case out of something right off the bat," he adds.
"Let's just casually talk to people."
Hamdani says he has dealt with about a dozen cases of young men who wanted to join a terrorist group, two of which involved ISIS. As a result, he has drawn some insights into what these young men have in common. In his mind, there are three types of individuals with terrorist-like inclinations.
The first group involves "warriors of the cause," the hard-core types who are the most difficult to deal with. "They believe this is what they need to do. They're middle aged. They're not people who are just lost. It's impossible to talk to these people rationally. It's impossible to deal with them. They've now been brainwashed," says Hamdani.
They represent a small minority of cases, according to Hamdani. He sees more of the second group that includes young men who come from good families and are upset with what they see happening around the world.
"They feel, as youth, they have to intervene. They actually see themselves as having good
intentions," he says, adding he thinks 11 of the Toronto 18 members fell into this category. This is the easiest group to work with, says Hamdani, noting it's still possible to sway them towards channelling their frustrations into civic engagement.
The third category involves people who are lost and, in some cases, have mental-health issues. "They don't have jobs, they don't have girlfriends, they don't have spouses," says Hamdani. "They don't have much going for them."
They're often recent converts to Islam who previously had no cause or strong values and they take on the religion as if it were a protest, according to Hamdani. The suspects who attacked soldiers in Ottawa and Quebec recently are likely examples of this group, Hamdani notes.
When he does his outreach work, McDonald says he relies on Hamdani to give him credibility among the Muslim community. "He vouches for us instead of us doing it the hard way," says McDonald.
With growing concerns around homegrown terrorism, the role of people like Hamdani is "absolutely vital," he adds.
"It's not so much his skills as a lawyer. It's his skills as a human being that's so valuable to us," says McDonald, describing Hamdani as "just a good guy."
"For a lawyer, he's a really good guy," he says jokingly.
Hamdani and Kamran Bhatti, another Hamilton-based Muslim community activist, founded an organization called the North American Spiritual Revival that offers youth leadership training programs. Bhatti notes many Muslims who come to Canada from other countries bring with them a deep distrust of law enforcement, something he and Hamdani are working to counter.
According to Bhatti, Hamdani is able to relate to youth and the Muslim community while also understanding the perspectives of law enforcement.
For Hamdani, the work comes with costs. He has received death threats and hate mail from those who believe he has a hidden agenda. People have scratched his car and thrown eggs at his home.
"It's disappointing because even within the Muslim community, I've been called a sellout," says Hamdani, adding the work can get discouraging at times.
But there are success stories. He says there are about eight cases in which his interventions into the cases of young men who had once aspired to a life of violence resulted in "functioning, positive members of society."
Part of the success is in highlighting the work Muslim communities are doing to fight terrorism, says Hamdani. While some people blame Muslims for not denouncing terrorist acts, "the reality is we were shouting, we were screaming . . . but no one could hear us," he says. "But now we're getting better at getting that message out there."