A lawyer who is already under investigation by the Law Society of Upper Canada for a $3-million deficiency in his trust account is now facing allegations of negligence over how he represented a former client in loan transactions.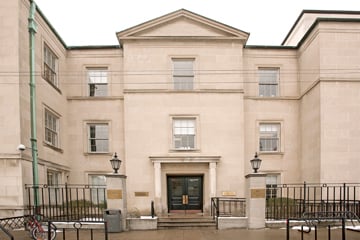 A lawyer who is already under investigation by the Law Society of Upper Canada for a $3-million deficiency in his trust account is now facing allegations of negligence over how he represented a former client in loan transactions.
The former client and plaintiff, 4381840 Canada Inc., brought 48 civil claims against Rockland, Ont. lawyer Steph­ane Langlois, his Ottawa firm, Charron Langlois LLP, and two other lawyers, as well as alleged loan recipients.
The plaintiff is seeking more than $4.6 million through the claims, 38 of which are in the Ontario Superior Court and the other 10 in the Small Claims Court.
Each claim concerns a different loan that Langlois allegedly facilitated and that the plaintiff issued as a private lender.
The claims in 4381840 Canada Inc. v. Charron, Langlois LLP et al. involve allegations related to a variety of causes of action, including breach of contract, negligence, breach of fiduciary duty and vicarious liability.
Yanik Guilbault, the lawyer representing the plaintiff, says there are no allegations of fraud at this point in time but that Langlois was negligent in his handling of the transactions.
Guilbault says some of the defendants in the claims are listed as Jane or John Doe, as the plaintiff is unsure how many of the loans Langlois arranged were real.
"We don't know at this point in time how many loans are fictitious," he says.
David Debenham, a lawyer representing defendants who were third-party clients that allegedly received loans, says his clients never heard of the transaction and had no part in the loan at all.
"The judge will tell us whether it was a fraud or not, but on its surface, there appears to be fraud, [and] that the lawyer simply was borrowing on his own behalf and he purported to be borrowing on other parties' behalf in some of the cases," Debenham says.
In 2016, a law society hearing panel issued an interlocutory suspension to Langlois, barring him from practising while the regulator investigated a $3-million hole in his trust accounts.
The deficiency came to the law society's attention when some of Langlois' colleagues filed a complaint after finding the bank had discontinued one of the firm's trust accounts.
Langlois admitted to an LSUC investigator in 2016 that he had used around $1 million of the trust monies to pay personal and general office expenses, according to the decision to suspend the lawyer in Law Society of Upper Canada v. Langlois.
A spokeswoman for the LSUC said the suspension remains in place, pending the completion of the law society's investigation and any hearing that may arise as a result.
In addition to the suspension, the Ontario Superior Court appointed the law society as trustee of Langlois' professional business in 2016, and the trusteeship remains active.
The 48 lawsuits concern loans that Langlois allegedly facilitated over the course of a number of years, says Guilbault.
He says Langlois would arrange the loans and the payment of the loans through him.
He says a number of loans were repaid completely throughout the years, resulting in a huge amount of trust that had been built up between his client and Langlois.
Guilbault says that a criminal investigation is underway into Langlois, but the Ottawa Police Services declined to confirm that was the case.
Ontario Superior Court Justice Pierre Roger decided to consolidate 37 of the actions into one, meaning they would all be heard at the same time because their issues are closely connected.
He also consolidated the 10 actions in the Small Claims Court.
Roger allowed the 38th remaining action in the Superior Court to continue separately, as a separate law firm is representing the plaintiff in the matter because of a conflict of interest that Guilbault has.
Stephen Cavanagh, Langlois' lawyer in the matter, declined to comment on the case.
Guilbault says consolidating the actions was premature because the main defendants have not provided defences yet.
"If we find out that there are 12 real loans, that means we have to amend our claim, put the correct name, serve that defendant and then pursue our claim against that defendant separately, irrespective of the fact that there may be negligence or not on the part of Mr. Langlois and his law firm," he says.
Roger, however, found it was not premature to consider such a request as the issues were sufficiently laid out in the statements of claim.
While the claims were consolidated procedurally, it remains to be determined whether they would be separate claims under LawPRO's policy, says Guilbault.
He says there was also a second insurer involved in addition to LawPRO.
He says he hopes there might be enough money to pay everyone "and close the book on this."
Debenham says the plaintiff's counsel made a "monumental tactical mistake" by commencing the 47 different proceedings as he has.
"He's created this ocean liner that will never get through the court system," he says.
"That's why class actions are instituted, because the court system simply can't deal with lawsuits of that size in any way, shape or form that's efficient."
Debenham says he expects the lawsuit will be bogged down in procedural issues for a long time.
The bigger the lawsuit, the slower it goes and the less remaining money there will be for a payout, he says.
He compared the size of the lawsuit to an ocean liner.
"Instead of waiting for a ship of 400,000 to save the people in Dunkirk, you could send over speedboats and get it done one boat at a time and that's the same theory with lawsuits," he says.
"You use speedboats to get your lawsuit done, not ocean liners."
Guilbault says he decided it was necessary to file 37 individual actions because they are dealing with separate and different loan transactions involving potentially more than 40 different borrowers over the course of around three years.
He adds that if the plaintiff was an institutional lender such as a bank, it similarly would have commenced separate claims against each different borrower.
Guilbault says he is hoping for some form of resolution within a reasonable period of time.
"A lot of peoples' lives have been affected and I think it would not be in the interest of the general public to drag this on for years," he says.
Lawyers involved in the case say Langlois faces at least a further seven lawsuits pending from other plaintiffs.
Guilbault says the LawPRO defendants have said in court that there may be 50 to 60 lawsuits pending on top of the original 48.
Guilbault stressed that his client has not been ordered to file fresh pleadings and that Roger's order simply consolidates the 37 claims in one book.
He says the defendants will have to address each claim separately in their defences, which are due by Oct. 1.
Brad Phillips, the lawyer who is representing LawPRO in the proceeding, declined to comment.
Martin Black, a lawyer representing a defendant in the one separate lawsuit, and Craig Bater, a lawyer representing the plaintiff in that lawsuit, both declined to comment.
Colin Dubeau, who is representing the other lawyers in the lawsuit, said he was not in a position to comment. LT