Homer Simpson, rapper 50 Cent, and Mr. Big from
Sex and the City
make strange bedfellows, but all three arose in a trademark case won by a cigar maker.
In
Empresa Cubana Del Tabaco v. Tequila Cuervo S.A. Dec. V.
, the applicants used popular culture references to emphasize their Cohiba cigars' status as an iconic brand.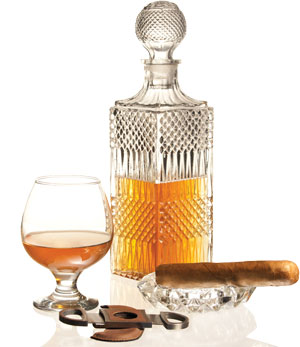 The approach could reduce the cost of trademark cases by replacing expensive surveys with a much cheaper Internet trawl of movie scenes and song lyrics, lawyers believe.
The case came about when Tequila Cuervo applied to register the trademark Lazaro Cohiba for its bottles of rum in 1996.
Empresa Cubana Del Tabaco opposed the application due to confusion with its own registered Cohiba trademarks for tobacco products.
On Sept. 30, 2008, the trademarks opposition board rejected Empresa Cubana Del Tabaco's grounds of opposition. The case went to appeal at the Federal Court in Ottawa on Oct. 4, 2013.
The applicant submitted new evidence that included rap lyrics and clips from TV shows and movies.
As a result, Justice Judith Snider allowed the appeal after finding Cohiba to be "an iconic brand of cigar, associated with wealth and status."
"The fame of the brand extends beyond cigar smokers to the general population. The association of cigars and alcohol — specifically hard liquor — is notorious," she wrote.
"As a result, I am satisfied that the first impression of a casual consumer seeing a bottle of rum with the label Lazara Cohiba would believe that the rum was related to Cohiba products. In other words, there is a likelihood of confusion."
John Simpson, a trademark lawyer at Toronto boutique Shift Law, says popular culture often arises in such cases but notes "it's not usually what the court focuses on."
By contrast, Snider based her conclusion largely on the fact that film, TV, music, and print magazines distributed in Canada and the United States had widely referenced Cohiba.
For example, it featured in a pilot episode of
Sex and the City
in which the character Mr. Big smoked a Cohiba cigar; a 50 Cent music video; a scene in which Homer Simpson says "Cohiba me" while smoking a cigar; and the movie
Hotel Rwanda
. "Cohiba carries with it an iconography of social status, wealth, power or intrigue which is in the minds of not just purchasers, but in the general public," wrote Snider.
Scott Miller, a partner at MBM Intellectual Property Law LLP who represented Empresa Cubana Del Tabaco, says the costs of carrying out this mass-media research were "minimal."
Gathering this kind of evidence rather than carrying out a survey to ascertain the public's knowledge of a brand could cost a client $5,000 instead of $50,000, he adds.
"Now we don't need surveys anymore. We can prove [a brand is] well known through pop culture," he suggests.
The decision builds on the 2011 Supreme Court of Canada trademark decision in
Masterpiece Inc. v. Alavida Lifestyles Inc.
that said survey evidence should be "applied with caution."
Simpson says the latest development is very positive for trademark practitioners. "Usually, we need survey evidence. We go out to shopping malls and street corners and interview thousands of people and find out how many people recognize that brand," he says.
As a result of the decision, Simpson may now encourage clients to push product placement in movies and TV shows as far as possible.
The Federal Court's consideration of the general public's brand awareness is a departure from the usual attention given to the particular consumers of the goods in question, he adds.
"In the context of an iconic or famous trademark, the case says the court can and should consider the perspective of the general public, which would include not just the consumers of cigars and rum but everyone's perspective," he says.
The decision also moves away from the notion of reduced confusion when goods, such as alcohol and tobacco, are available through different channels of trade.
"There is a relationship in the mind of a smoker between alcohol and tobacco," wrote Snider.
"In effect, there is a disposition for confusion. Thus, a smoker who sees a bottle of hard liquor with a name that is the same as a brand of cigars or cigarettes that he smokes would be more likely to associate the alcohol brand with his cigarette brand."
Tequila Cuervo is appealing the decision. However, the impact will be significant if it stands, according to Simpson.
"This will be cited by every trademark owner who wants to make a case that their trademark is well known or famous," he says.