Kate Hughes' file on Michael McKinnon is a "huge" wall of more than 100 boxes of exhibits, transcripts, and books of research.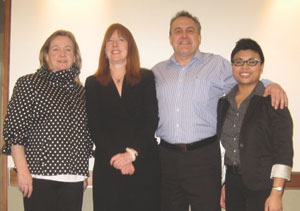 It makes sense considering that Hughes, a Toronto lawyer, spent the last dozen years on what became the longest-running human rights case in Canada.
For 23 years, McKinnon, a former jail guard, battled the Ontario Ministry of Correctional Services over workplace discrimination. The matter finally came to a long-awaited end last month.
Hughes describes her time on the file as a rollercoaster.
"I have not been part of a case that stretched on for so many years," says Hughes. "I have had many lengthy hearings but none that approached this case. It has consumed my practice for the last dozen years.
I travelled the rollercoaster road with Mr. McKinnon and truly admire him for his tenacity in trying to fix the deep-seated problems in his workplace."
McKinnon's story begins in 1988 while a jail guard at the Toronto East Detention Centre. It was a job he loved and excelled at. He'd been there for 11 years and married a co-worker. At the wedding, as some of their colleagues sat in attendance, McKinnon wore a traditional Cree headdress to honour his mother.
When he returned to work, he found a mocking caricature posted on a billboard that all of his co-workers could see. According to a Toronto Star story, his co-workers started calling him names like Wagon Burner, Big Indian, and Chief Crazy Horse.
To make matters worse, McKinnon's boss was the ringleader.
Tired of the harassment, McKinnon confronted his boss and was told, "Well, you are a f---ing Indian, aren't you?"
After getting nowhere internally, McKinnon eventually decided to take the matter up at the Human Rights Tribunal of Ontario.
Ten years later, it ruled strongly in his favour and his wife, Vicki Shaw-McKinnon. As a result, the ministry was ordered to provide anti-racism training for the staff and give the McKinnons the promotions denied to them.
The tribunal also ordered four supervisors to pay McKinnon $20,000 in damages and his boss to be moved to another jail.
While McKinnon thought his problems were behind him, they were just the beginning.
When he filed the original complaint, all McKinnon wanted was an apology.
But when he went back to work, the harassment got worse. According to Hughes, the discrimination continued in different forms, including shunning and targeting McKinnon in a number of ways.
Some managers refused to work with him. His requests for help were either ignored or dealt with in what the tribunal later called a "begrudging" or superficial way.
"All career opportunities for his wife and him were closed, and he was not supported by the management at work, a dangerous position for both he and his wife to be in while working in a maximum security facility," says Hughes. "Mr. McKinnon had to return to the tribunal again and again."
It all adds up to 180 days of proceedings at the tribunal, more than 1,000 exhibits, and what Hughes describes as three major decisions and dozens of interim rulings.
They were all in his favour, but that didn't matter.
The case then went to Divisional Court four times and the government appealed in 2004. It lost.
The matter stopped short of going to the Supreme Court of Canada.
McKinnon kept winning but not in actual fact. The government didn't fully implement the orders and experts kept finding it wasn't safe for him or his wife to return to the jail.
"He won the legal proceedings but lost his career, as did his wife, a well-educated multilingual correctional officer whose fast-track career came to a shocking halt once her husband filed his complaint of racism against their employer," says Hughes.
McKinnon's efforts shone a light on a dark problem inside Ontario jails, a place the tribunal called a "poisoned" workplace that was "redolent" with racism.
After the government appealed a decision on the matter in 2002, the case found its way to the Divisional Court, which in 2003 said that previous reports "indicated the existence a shameful situation that is totally unacceptable in a civilized country.
The continued exposure within the ministry of other minorities of the harassment and discrimination experienced by Mr. McKinnon must stop."
In 2004, the government said it would implement all of the orders in good faith. At that point, McKinnon thought he could go back to work.
Seven years later, McKinnon still hasn't returned to work. The government has yet to implement some orders, says Hughes.
"The evidence was that the problems continued and that for Aboriginal Peoples in particular, as well as racialized persons and women, there were many significant issues that were not being addressed," she says.
In February, after more than 30 additional days of evidence, the tribunal issued a decision referring the matter to the Divisional Court again as it found deputy minister Jay Hope in contempt of its orders for deliberately withholding key information. It was a historic move.
That ruling led to mediation. McKinnon then accepted a deal settled out of court in August, but Hughes can't reveal how much money he and his wife received.
The Ontario Human Rights Commission now says it will work with the government "to ensure that long-term systemic initiatives are further developed and properly implemented."
"I am very pleased that this proceeding is now resolved as a result of the new settlement," said chief commissioner Barbara Hall. "The ministry has agreed to undertake a number of actions that will directly benefit those who presently work and who will work in the future in correctional services."
Ron McKerlie, deputy minister at the Ministry of Government Services, said the settlement "signals a new beginning for corrections" and that the government is committed to promoting key values, respect, and accountability inside its jails.
For her part, Hughes is hopeful that change will come. She says too many people in the corrections system have suffered racism and resistance to change in the workplace.
"It is well overdue that change is implemented. I remain skeptical but hope that there will remain a public spotlight on the problem as this public oversight is necessary to have the problem addressed in this resistant workplace."