Canadian judges are tired of being nickel and dimed by the Harper government over their annual pay raises. But there's hope on the horizon, with new Justice Minister Rob Nicholson - who may want to do something about it. It would be a welcome change from the continuing fight for the past 18 months between the almost-new Conservative government and the Canadian judiciary.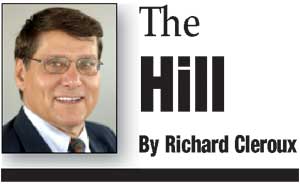 The salaries of federally appointed judges in Canada are set by an independent commission made up of judges, lawyers, and legal experts. The commission looks at how much top lawyers are making, what legal skills are required of judges, how much work is involved, and a number of other factors. The government is responsible for passing a regulation implementing the independent commission's recommendations.
A lot of money is involved. There are more than 1,100 federal judges in Canada. They make between $200,000 and $250,000 a year. The Supreme Court judges are paid more than cabinet ministers, something that rankles Harper's gang who like to see themselves as the top dogs.
The last pay raise recommendation was in May 2004. When the Conservatives came to power in January 2006, they made the judges wait almost a full year, until December 2006, for their back pay. And even then, Harper reduced the pay increase from the recommended 10.8 per cent down to 7.25 per cent.
He couched it so elegantly: "It overshoots the mark in defining the level of salary increase necessary to ensure outstanding candidates for the judiciary." And, he made them wait until he was good and ready. Plus, there was no interest on their back pay either. How different from when it came to raising Harper and his colleague's parliamentary salaries.
The judges don't have a union, but they do have the Canadian Superior Courts Judges Association, which represents them. The past president is Justice John Vertes of the Northwest Territories, who is carrying the ball for them on the pay issue.
Pay is important to the judges, firstly, because many used to make a lot more money as lawyers, and in this world nobody likes to go to a job that pays less . . . even if you get a nice gown. Secondly, judges don't like to have lawyers appearing before them who are making a huge whack more cash than they are. In our society, how much you make often defines who you are.
Vertes wants it written in law that the federal government would have six months to implement the independent commission's pay increase recommendations. "This is not something we want to sue the government over," Vertes said. "We just want legislative changes."
He's right about that. Judges shouldn't have to go to court to get a fair shake from the government. They had to in 1999 and got a decision in their favor from the Supreme Court.
The pay issue hides something else, but nobody wants to talk about it publicly. Vertes says simply that he doesn't know if the Conservatives cut back the last pay increase for political reasons.
Actually, it would be difficult to prove in a court of law, but there are some sneaking suspicions going around that it has something to do with how Harper's gang feels about judges. Witness their repeated attacks on lawyers, our Canadian judicial system, and our Charter of Rights and Freedoms.
Remember Randy White, one-time Reform justice critic and his famous line: "To heck with the judges."
He's been gone three years, but his place was taken by Vic Toews, who became Harper's justice minister: "We have seen these radical liberal judges who have their own social agenda coming to the bench and forgetting that their responsibility is to interpret the law and not make the law. We are very, very concerned about that."
Some people were very, very concerned about Toews. Harper replaced him with Nicholson, a Niagara Falls lawyer who has shown nothing but respect for the bench. That's what gives people, such as Mr. Justice Vertes, hope that they may be able to reach some compromise with Nicholson to put an end to the adversarial approach that has infested the past 18 months of the Harper government.
---
Richard Cleroux is a freelance reporter and columnist on Parliament Hill