Another Step Forward For Law School Accessibility Showcase Launched Paper Recommends New Approach Law Times Poll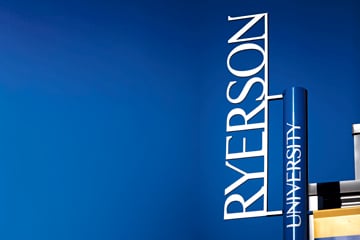 ANOTHER STEP FORWARD FOR LAW SCHOOL
Ryerson University is aiming to have a new law school up and running by September 2019 if it receives approval from the Federation of Law Societies of Canada and the Ontario government. In June, the Ryerson University senate unanimously approved the proposal for the law school, bringing Ryerson one step closer to being Canada's newest law school.
In a report sent to the Ryerson senate this summer, which outlines the philosophy and plan of the proposed law school, Ryerson pitches a law school more oriented to "practice readiness and change management" than what it argues currently exists in the legal academy.
"Ryerson acknowledges and respects the important work of the law schools that now educate law students," the report states. "However, Ryerson proposes a different kind of law school that trains lawyers differently."
While the law school proposal includes the standard courses required by the Federation of Law Societies, it also includes courses and training in data management, emotional intelligence, entrepreneurial spirit, financial literacy, network building, process improvement, strategic thinking and technological proficiency. Ryerson also stresses that the university's "innovative and entrepreneurial" environment, including the Legal Innovation Zone legal incubator and the Law Practice Program, will help foster a different kind of law school.
ACCESSIBILITY SHOWCASE LAUNCHED
Law students from the IP Osgoode Innovation Clinic, in collaboration with lawyers from Norton Rose Fulbright Canada LLP's IP group, are offering pro bono one-to-one intellectual property advice at an Ask the Expert program.
The program occurs Sept. 25 and 26 and is part of the Accessibility Innovation Showcase, an official event of the 2017 Invictus Games that are being held in Toronto this year.
PAPER RECOMMENDS NEW APPROACH
A new research paper on how to address defamation on the internet recommends looking at alternative routes to deal with the issue, such as an online tribunal where disputes can be resolved.
The background paper is by University of Calgary Faculty of Law associate professor Emily Laidlaw, and it is supported by the Law Commission of Ontario.
The paper notes that "traditional remedies are not as effective to address online defamation disputes." It can be accessed at http://www.lco-cdo.org/.
LAW TIMES POLL
The Canadian Bar Association's decision to protest the federal government's planned changes to private incorporation tax rules has some lawyers revoking their membership. Readers were asked if they agreed with the CBA's position.
Forty-nine per cent of respondents said yes, the changes will negatively impact the ability of small businesses to finance growth, innovation and job creation. Fifty-one per cent said no, lawyers need to use their privileged position to speak out in favour of wealth redistribution.