Radnoff Joins Dickinson Wright Klippenstein Signs On To Suit Against LSO Statement Of Principles Law Society Revokes Licence For Ottawa Lawyer Law Times Poll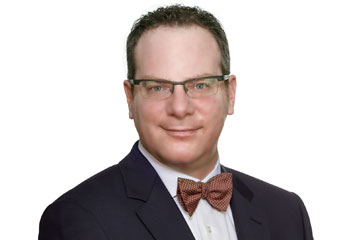 RADNOFF JOINS DICKINSON WRIGHT
Lawyer Brian Radnoff, who previously practised at Lerners LLP, has joined Dickinson Wright LLP as a partner in the firm's Toronto office.
Radnoff says he plans to leverage the firm's cross-border business to take advantage of the U.S. client base and, in turn, help Dickinson Wright's Toronto office expand its reach in commercial litigation.
"Thankfully, given that we still have a free trade deal with the U.S. — or at least we expect to — I think this is a really good opportunity to me to expand that aspect of my practice," says Radnoff. "Now that things are a bit more settled, I think that there's going to be a lot more investment going both ways. Any time you have business dealings, you have the potential for disputes, and you need people like myself."
Dickinson Wright's announcement on Nov. 12 noted Radnoff's background in professional negligence and discipline cases, appeals, class actions and estates. Radnoff says the marijuana business is also likely to generate cross-border legal action.
"One area that this firm has been involved in — the marijuana industry — is obviously going to be a huge thing, particularly given the different legal structures in the U.S. and Canada," says Radnoff. "I think a lot of U.S. companies are going to be looking to Canada."
KLIPPENSTEIN SIGNS ON TO SUIT AGAINST LSO STATEMENT OF PRINCIPLES
Murray Klippenstein, founding principal of Klippensteins Barristers & Solicitors in Toronto, has joined as a co-applicant suit challenging the Law Society of Ontario's Statement of Principles requirement, according to a statement from the Canadian Constitution Foundation.
The amended notice of application seeks a judicial review in Divisional Court on the grounds that the requirement is contrary to sections of the Canadian Charter of Rights and Freedoms. Klippenstein joins Ryan Alford, who teaches at the Bora Laskin Faculty of Law at Lakehead University, in the suit.
LAW SOCIETY REVOKES LICENCE FOR OTTAWA LAWYER
Ottawa lawyer John Ronald Houlahan was ordered to pay costs of $5,000 to the Law Society of Ontario and his licence was immediately revoked, said the Law Society Tribunal, in an Oct. 29 order.
Earlier this year, a notice of application said Houlahan had allegedly failed to tell the LSO that he had been charged with indictable offences.
Houlahan pleaded guilty in 2017 to an allegation he stole more than $5,000 during his tenure chairing a local committee at St. Patrick's Parish Cemetery, the law society's application said.
LAW TIMES POLL
A proposed amendment to the provincial Juries Act would repeal the rule that prevents people convicted of an offence from serving as jurors. Law Times asked readers if they agreed with this change.
The majority, 60 per cent, disagreed with the proposed change, saying the change would not have beneficial effects on jury composition. Forty per cent agreed with the proposal, saying prior convictions should not stop someone from serving on a jury.