New Advocates' Society Executive Costs For Groia CBA Webinar Law Times Poll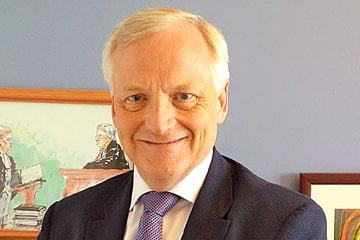 NEW ADVOCATES' SOCIETY EXECUTIVE
Brian Gover of Stockwoods LLP is the new president of The Advocates' Society.
Joining Gover on the society's executive for 2018-2019 are Scott Maidment of McMillan LLP as vice president, Guy Pratte with Borden Ladner Gervais LLP as treasurer and Deborah Palter with Thornton Grout Finnigan LLP, who will be secretary.
Gover said he's looking forward to the role.
"The society has a long history of serving advocates and the administration of justice, and it has a bright future," he said in a news release.
"I am looking forward to working with everyone over the next 12 months, meeting advocates and judges from across the country and helping to realize The Advocates' Society's vision of excellence in advocacy and the highest standards of professionalism within a fair and accessible system of justice."
COSTS FOR GROIA
The Law Society of Ontario announced on June 8 that it had reached an agreement with Joseph Groia for costs he would receive, after a ruling early this month by the Supreme Court of Canada dismissed complaints against him.
"Mr. Groia will receive $550,000 to address his costs at all levels of the Law Society Tribunal, as well as the Courts. This agreement brings all issues regarding the Law Society's proceedings with Mr. Groia to a close," said a release on the Law Society of Ontario website.
"Mr. Groia is an honourable member of the Bar and serves as a valued member of Convocation. The Law Society is pleased to reach an agreement and conclude this matter."
CBA WEBINAR
A Canadian Bar Association webinar will be focused on the legal framework for federal transgender prisoners.
"The Correctional Service of Canada has recently implemented policies to improve the human rights of transgender prisoners, including allowing placement in men's or women's prisons by gender identity, following similar policy changes made by some provincial correctional authorities," says the Canadian Bar Association website.
"These changes come 17 years after the Canadian Human Rights Tribunal confirmed that sex-reassignment surgery cannot be prohibited while an individual is incarcerated, in 2001."
More information is available at http://www.cbapd.org.
The webinar is scheduled to take place June 21.
It will cost $125 for CBA members and $250 for non-members.
LAW TIMES POLL
The lawyer at the centre of the civility debate in the profession, Joseph Groia, says the Supreme Court of Canada has sent a message to law societies that there should be very careful deliberations before initiating disciplinary proceedings in a similar situation.
Readers were asked if they agreed.
About 32 per cent said no, the Law Society of Ontario proceeded in the best interests of the profession. About 68 per cent said yes, the Law Society of Ontario made some abominable choices in this matter.