NOTED LAW PROFS DIE
Daniel Soberman, the last surviving founding faculty member at the Queen's University Faculty of Law, died last week at age 80.
In 1957, the constitutional and corporate law expert left Dalhousie University to team up with Alex Corry and Stuart Ryan at the new law school.
He later became the faculty's second dean and was awarded an honorary doctor of laws at its 2008 spring convocation.
During a 42-year academic career at Queen's, Soberman served as president of the Canadian Association of Law Teachers and conducted influential studies examining academic freedom. Flags on campus were lowered to half-mast as a mark of respect.
At the same time, University of Windsor law professor John Whiteside died last week, nearly 50 years after helping establish the university.
He was on the original board of directors in the early 1960s before joining the law faculty in 1975 after a long career in private practice. In 1990, he was named professor emeritus while continuing to teach after his retirement.
In 1999, the Law Society of Upper Canada awarded Whiteside the Law Society Medal for his contribution to the profession.
Windsor lawyer Peter Hrastovec, a former student of Whiteside's, described his memories of his colleague to the Windsor Star. "[He], to put it very simply, was a giant among lawyers," he said.
OBA MAKES TOUGH DECISION
The Ontario Bar Association has named Bonnie Tough as the recipient of its 2010 Award for Excellence in Civil Litigation.
The lawyer with Tough & Podrebarac LLP was honoured for three decades of outstanding service as a litigator, educator, and advocate for the profession.
"Bonnie's skills in oral and written advocacy, her contributions to legal education, and her leadership within the civil litigation bar make her an obvious recipient," said Audrey Ramsay of the OBA's civil litigation section.
Tough will receive her award on Sept. 29 in Toronto.
CALL FOR SCHOLARSHIP APPLICATIONS
The Roger Fisher Negotiation Training Scholarship is inviting applications for its 2010 award.
The winner will receive free registration for the Become a Powerful Negotiator workshop, put on by the Stitt Feld Handy Group, that's based on the approaches and theories of the renowned Harvard University law professor.
The scholarship was created in 2007 as part of the Roger Fisher Tribute held in Toronto and is open to residents of Ontario with an interest in negotiation skills and dispute resolution.
"Roger's teachings, and the teachings of those who worked with him, have changed the approach to negotiation and to mediation of people around the world," said Stitt Feld's Allan Stitt.
The deadline for entry is Aug. 13.
OBA UNVEILS NEW BOARD
The Ontario Bar Association has unveiled its new board of directors following its annual elections, including the new position of second vice president.
President Lee Akazaki is joined by Paul Sweeny of Evans Sweeny Bordin LLP in Hamilton, Ont., as first vice president, while Morris Chochla, a partner with Toronto firm Forbes Chochla LLP, becomes second vice president.
Chochla's new role is designed to smooth the annual transition between presidencies, according to outgoing president Carole Brown.
Also elected to the board were Douglas Downey as treasurer; Sean Kennedy as secretary; Martha Mackinnon as chairwoman of professional development; Guillermo Schible as chairman of the young lawyers division; and Julia Lefebvre as chairwoman of the student division.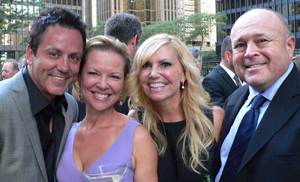 NEARLY $4,000 RAISED FOR SICKKIDS
Victory Verbatim Reporting Services Inc. hosted a fundraiser last week at Bymark restaurant in Toronto with cocktails and appetizers by renowned chef Mark McEwan. The $3,756 raised at the event went to SickKids Foundation.
It was a stylish affair with flowing cocktails, excellent music, and interesting guests. Some of the notable attendees included hockey players Doug Gilmour and Steve Thomas.
Litigators from around the city mingled with well-known practitioners such as lawyer John Rosen and former associate chief justice Coulter Osborne.
Also on hand were local celebrities such as Johnny Fay of the Tragically Hip and Glen Baxter of Fashion Television