OBA Award Recognizes Gender Equity LSO Voting Issues SCC's Gascon To Retire Schabas Becomes Judge Law Times Poll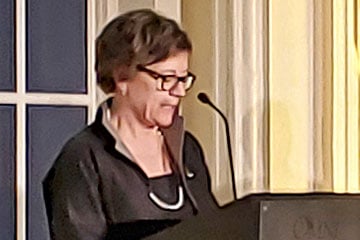 OBA AWARD RECOGNIZES GENDER EQUITY
Justice Patricia C. Hennessy, an Ontario Superior Court of Justice judge in the Northeast Region – Sudbury District, and James Douglas, a partner at Borden Ladner Gervais LLP in Toronto, were the recipients of the OBA President's Award this year for championing gender equity in the legal profession, which was presented to them during the Ontario Bar Association's Awards Gala at the Omni King Edward Hotel on April 17.
The OBA President's Award recognizes Canadian lawyers, judges and organizations that have made massive strides in improving the advancement of justice in the province, and throughout the country.
"I strongly uphold the view that our profession should be one of equal opportunity in holding on to issues of gender or race or creed," says Douglas.
"This year, the President's Award is proof that those values are values of the legal profession in Ontario, and of that, I am truly proud of being a member."
Hennessy said in order to overcome challenges, it's important to learn from those with differing perspectives, especially when they "hold a different worldview than our own."
During the award presentation, Lynne Vicars said since becoming OBA president, she has made it a priority to listen to a variety of stakeholders within the legal profession and involve as many people as possible.
"By harnessing the ideas of a true cross-section of the legal community, we can devise constructive measures, steps big and small, to eradicate these obstacles," says Vicars.
Other award winners honoured were Eva E. Marszewski, Albert H. Oosterhoff and Martin M. Sclisizzi for the Award for Distinguished Service, H. Michael Rosenberg for the Heather McArthur Memorial Young Lawyers Award, John R. Cockburn and B. Robin Moodie for the Joel Kuchar Award for Professionalism and Civility, Erin H. Durant for the David Scott, Q.C., Award for Pro Bono Law, Robert M.G. Shawyer for the Linda Adlam Manning Award for Volunteerism, and Martha Jackman for the Mundell Medal for Legal Writing. Luke's Place, a legal resource centre in Oshawa, Ont. was acknowledged with the OBA Foundation Award for its work with domestic violence victims (specifically women and children).
LSO VOTING ISSUES
The Law Society of Ontario said that high volume of voters slowed down the voting website for the bencher election, which opened April 15 and runs until April 30. The LSO advised licensees to check the junk mail folder of their email inboxes if they had not received key voting information. Voters were advised to contact Computershare directly or visit their law society portal for a unique link and control number that's needed to cast a ballot.
"We are grateful for your patience and engagement in the process," the LSO said on Twitter.
SCC'S GASCON TO RETIRE
Justice Clément Gascon will retire from the Supreme Court of Canada on Sept. 15, Chief Justice of Canada Richard Wagner announced in a press release on April 15. Wagner said the retirement was "for personal and family reasons, citing what Gascon told Minister of Justice David Lametti. Gascon, who was appointed to the Supreme Court June 9, 2014 after serving on the Quebec Court of Appeal, may continue to participate in judgments for up to six months after retiring, said Wagner's announcement.
SCHABAS BECOMES JUDGE
Former Law Society of Ontario Treasurer Paul Schabas will become a judge at the Superior Court of Justice of Ontario, and an ex officio judge of the Court of Appeal for Ontario, the Department of Justice Canada announced on April 11. Schabas, a partner at Blake Cassels & Graydon LLP in Toronto, is known for media law cases such as Grant v. Torstar Corp., the announcement noted, as well as presiding over the LSO when it decided to change its name from "Law Society of Upper Canada."
LAW TIMES POLL
Law Times asked readers if they planned to vote in the Law Society of Ontario's Bencher election, which goes from April 15 to April 30?
Ninety six per cent said, they did plan to vote and that it's important.
A minority, four per cent, said they did not plan to vote, and that the election has siphoned attention away from other issues.