Grad Licensed, Of Good Character New Legal Tech CEO Suspended Lawyer Still On Ballot Law Times Poll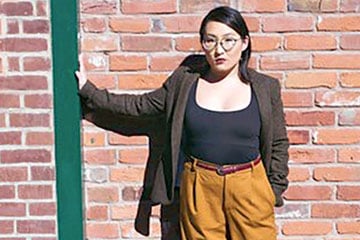 GRAD LICENSED, OF GOOD CHARACTER
The administrative tribunal of the Law Society of Ontario has ruled in favour of an application for licensing as a lawyer by a University of Toronto law school graduate who berated courthouse staff and posted offensive comments online about police, Crown prosecutors and judges, all while articling.
Though pleased with the ruling, the young female applicant, Nadia Guo — an avowed escort with an explicit website that promotes her services — says her case illustrates the many shortcomings of Canada's legal education system.
Guo ran afoul of the LSO in 2015 when the first of four complaints were filed against her over a six-month period. Those complaints ranged from her conduct at a civil clerk's office, leading to her being escorted out by a security guard, to her posting many derogatory comments about lawyers online, including mocking a partner in a law firm who didn't know what a PDF file was. More ominously, she was accused of making derogatory remarks about legal professionals and justice system workers on Twitter.
The adjudicators noted that at the December hearing that Guo's lawyer, Kris Borg-Olivier, provided evidence that his client has acknowledged her misconduct and taken steps to better deal with her stress and anger.
She notably saw a licensed psychotherapist who provided a letter saying Guo "had good insight" that would help her to understand and better express her feelings.
NEW LEGAL TECH CEO
Toronto start-up Willful, which helps users create wills online, announced a new CEO on April 9. Erin Bury replaces husband Kevin Oulds in the role. The service says it is "more convenient and affordable than visiting a lawyer."
The company's legal advisors include three Ontario lawyers: Scott Allison, Hala Tabl and Neil Milton, its website says.
SUSPENDED LAWYER STILL ON BALLOT
Suspended lawyer David Grant Isaac will appear on the ballot for the bencher election, said Law Society of Ontario communications advisor Susan Tonkin in an email to Law Times. Isaac was scheduled to have a Law Society Tribunal motion hearing on April 3 and April 5 regarding his disciplinary record. As of April 9, he remained suspended, said Ivy Johnson, communications officer for the Law Society Tribunal.
"On eligibility for election, By-Law 3 provides that no candidate shall be elected as bencher if, at the time of his or her election, the candidate is no longer licensed to practise law in Ontario as a barrister or solicitor or the candidate's licence is suspended," Tonkin said in her email.
LAW TIMES POLL
There is some discussion at Queen's Park around not allowing the legal profession to self-regulate, according to bencher candidate John Nunziata, who has said he has heard the discussion.
Law Times asked readers if they thought the profession should be self-regulated.
The majority, 63 per cent of readers responded that the legal profession should be self-regulating." A minority, 37 per cent of respondents, disagreed that the profession should be self-regulated and said this is something that should change.