Immigrant to immigration lawyer and advocate for Holocaust survivors and victims of anti-Semitism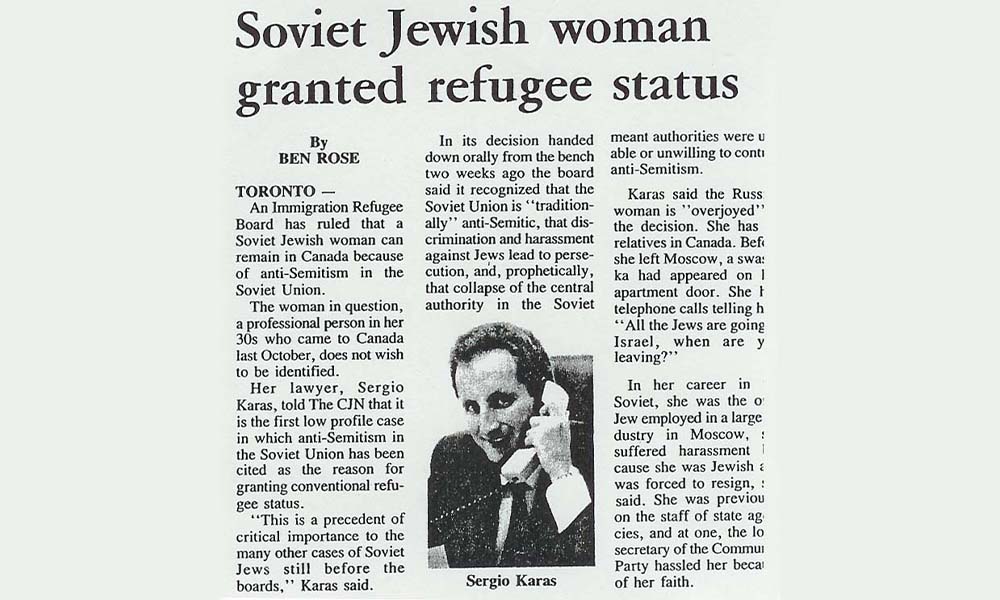 Born in a country governed by a military dictatorship, it's natural to admire countries with stable legal systems, says Sergio Karas, certified immigration and citizenship law specialist and founder of Karas Immigration Law Professional Corp.
A child of Polish Jews forced to flee the Holocaust, Karas' legal practice has been supplemented with advocacy on behalf of Holocaust survivors and victims of anti-Semitism. His immigration practice was inspired and has been fuelled by an admiration for a system proven reliable and which upholds the rights of citizens.
Karas and his family migrated to Canada when he was 19 years old, and he was determined to go to law school, notwithstanding the odds. Since obtaining his law degree from Osgoode Hall and beginning his legal career in municipal law and legal aid, Karas has built a reputation in Canadian immigration law.
Karas says he was always interested in the rule of law and individual rights, after experiencing "various military dictatorships or chaotic civilian rule," during his youth. Born in Buenos Aires, Argentina, Karas was a child during the authoritarian rule of Carlos Ongani, which was followed by the tenure of Isabel Peron, a time marked by terrorism carried out by militant groups such as the Ejercito Revolucionario del Pueblo. Then came the 1976 military coup and the dictatorship of Jorge Rafael Videla, who died in in prison in 2013 while serving a life sentence for crimes against humanity.
Karas' legal career has also had its share of ups and downs, he says.
"When you are an immigrant and you go straight to university, you don't have the same type of network and social connections. It was interesting, you know, because I had to kind of carve my own path."
Karas lived with his parents during law school while working at an immigration firm during the summer. He was determined to practice corporate law but was alarmed when he remained unemployed and with substantial student debt after articling.
He finally began practicing municipal law at Goodman and Carr LLP. But it only took a couple of years before Karas took a break and "retooled" his legal career.
"I quickly realized that field did not appeal to me because it lacked the human contact that I craved," he says.
Changing his career focus to immigration was a familiar path. Karas' father fled to Argentina from Poland during the Holocaust and, years later, moved his family to Canada. He is no stranger to the realities of immigration and the barriers immigrants face, he says.
With immigration work experience under his belt, a fluency in six languages and a friend's advice, Karas began his immigration practice, Karas Immigration Law Professional Corp, working exclusively legal aid cases.
"When I started doing legal aid, the word got around somehow that I spoke Spanish, and I was doing a pretty good job for clients. So I had a lot of Spanish speaking clients from various countries."
The conflicts that plagued Central and South America in the 1980s led to an increase in clientele and got things rolling for his firm, Karas says. With the drug war in Colombia, death squads in Guatemala and civil war in El Salvador, he says many of his clients came from these and other Latin American countries.
Some families received significant compensation in a $1.25 billion settlement, Karas says. The legal victory made the front page of the Globe and Mail, garnering the attention of investigative journalist Isabel Vincent, who was working on a book called "Hitler's Silent Partners."
"My clients agreed to be interviewed by Isabel, and I was interviewed extensively. My father was interviewed extensively, and my mother was also interviewed," Karas says. "There are about 15 pages about my family and me, and the book gained international attention. So, I think that's
one of my greatest achievements. It was not part of my practice, but sometimes you're at the right place at the right time."
Now specializing almost exclusively in corporate immigration, Karas clients include corporations, multinationals, scientists, computer programmers and engineers.
He prepares work permits, permanent residence applications, sponsorship applications and criminal rehabilitation for people with criminal convictions who are prohibited entering Canada.
"I like to make a difference," he says. "As an immigrant myself, who have come here legally, I'm very passionate about assisting people who are trying to come to Canada by following all the rules and complying with the law, rather than looking for a shortcut."
He says it is vital that Canada prioritizes STEM graduates for entry into the country as there are high demands for these occupations in Canada's labour force. He says it's deplorable when people take advantage of Canada's immigration policies because immigration is an economic tool used to build Canada and attract individuals in demand in the labour markets.
"I believe that immigration should be used for the betterment of the Canadian economy and to provide employers with the talent that the labour force requires."
Karas is past chair of the Citizenship and Immigration Section of the Ontario Bar Association, past chair of the Immigration and Nationality Committee of the International Bar Association and past chair of the Canada Committee of the American Bar Association Section of International Law.