The legalization of possessing small amounts of cannabis for recreational use is a campaign promise that the Liberal government of Justin Trudeau is following through on since it was elected in the fall of 2015.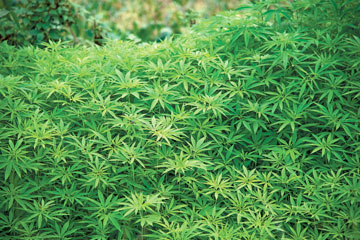 The legalization of possessing small amounts of cannabis for recreational use is a campaign promise that the Liberal government of Justin Trudeau is following through on since it was elected in the fall of 2015.
In the more than two years since that election, however, imminent legalization did not result in a dramatic shift by law enforcement when it came to enforcing the current prohibitions against marijuana use and distribution.
Police in numerous municipalities laid charges against dispensaries that opened up quickly to try to take advantage of consumer demand and the promise of future changes in the law.
Even people found with small amounts of cannabis in their possession faced criminal sanction.
Almost 18,000 individuals were charged with possession offences in 2016, according to Statistics Canada.
That number declined by about 15 per cent from the year before.
Of the total number of people charged with cannabis-related offences that year, three-quarters were for illegal possession of the substance.
The legislation that was passed in the House of Commons would make it legal for adults to possess up to 30 grams of marijuana, grow as many as four cannabis plants at home and make edible cannabis products for home consumption as long as no solvents are used.
What is not clear yet is how the changes will impact what happens in the criminal courts in the future in terms of how police investigate and the Crown prosecutes marijuana production, distribution and possession that is still illegal under the new measures.
Some defence lawyers, who regularly act for clients charged with drug offences, say it may not result in major changes.
"The main area [of prosecutions] will be growing and selling that is not approved by the government," says Toronto defence lawyer Paul Lewin, partner at Lewin & Sagara LLP, whose practice is focused on cannabis law.
"They will say it is about protecting the public, but governments will want to protect their cut," says Lewin, in reference to the tax revenue that will be generated from legal cannabis sales.
The defence lawyer points to some of the potential financial penalties set out in Ontario's recently enacted cannabis legislation.
Corporations convicted of illegally selling marijuana from a retail outlet will face a minimum fine of $25,000 and a maximum penalty of $1 million.
There are also stiff fines for individuals convicted of provincial marijuana offences.
The size of any future black market will depend on what the government operations are offering customers, says Lewin.
"What is the quality? What is the price point?" he says.
"There absolutely will be a black market, although it will be diminished."
Frank Miller, a senior criminal defence lawyer in Windsor, Ont., says he does not expect police to change practices when it comes to investigating illegal cannabis operations, such as grow-ops.
"I don't think the police are suddenly going to switch off. They have invested a lot of money in the investigation of the product," he says.
At the same time, when it comes to grow-op investigations, it normally stems from neighbour complaints, Miller notes.
He adds that legalizing the possession of small amounts of marijuana may not impact how courts look at individuals convicted of offences in this area after the changes are enacted into law.
"The courts have already adjusted" in terms of the sentences that are imposed for marijuana offences, says Miller.
"I don't think courts will treat people with grow-ops any differently," he adds.
The amendments to the Criminal Code may make it more difficult for prosecutors at a sentencing hearing for individuals convicted of marijuana trafficking or production offences, however, Lewin says.
"The whole idea that this is the evil weed is now hard to maintain," he says.
As well, while the federal government has hinted at making it easier to obtain a pardon for a past criminal conviction for simple possession of marijuana, Lewin says it is time for concrete action.
"Prime Minister Trudeau should be taking the lead. All simple possession offences should be pardoned," he says.
One collateral issue of making it legal to have small amounts of cannabis is the potential impact on police who have long used suspected marijuana possession as grounds to search an individual or their car for other criminality.
There are numerous reported judicial decisions where police have testified that they smelled unburned marijuana after detaining a suspect and that is why a further search took place.
In one high-profile decision in Toronto in 2014, the seizure of a gun was excluded as evidence by Superior Court Justice Nancy Spies as a result of Charter violations by police related to what they said was a search based on their marijuana­smelling skills.
The officers testified in R. v. Graham that they were able to smell a small amount of marijuana inside a Ziploc bag, which was located inside a Coach bag that was zippered shut.
They also claimed to have received training on how to smell both burned and unburned cannabis, which was rejected by the judge.
"The 'training' the officers had was really just exposing them to the smell of marijuana and so I find that special training is not necessary to be able to identify the smell. Furthermore I do not accept the submission that the officers' senses were 'more turned on,'" the judge wrote.
"[I] have found that the officers have acted in bad faith. They came to this Court and gave false evidence in an attempt to persuade me that they smelled a strong odour of marijuana . . . ," said the ruling.
Miller does not think the fact that having a small amount of unburned marijuana in your car is legal will deter police when they want to conduct a search.
"They will switch from unburned to burned," he says.
"They will say it is suspected drug-impaired driving. That will be the justification."